Interviews and more
Adrien Brody could have been a magician, and now he's rediscovering his passion for painting. But with a dizzying array of major roles and a new Wes Anderson film coming out, the Oscar-winner explains why this is very much 'a special time'.
Roughly a year after Adrien Brody became the youngest recipient of the Academy Award for Best Actor in a Leading Role, he sat for an interview and a "glammed-up" photo shoot for the August 2004 issue of Details magazine, the now-defunct men's publication. The cover shows Brody wearing a white T-shirt, "the perfect all-American look", leaning backwards with both hands behind his head and meeting the camera with a gaze both remote and charged. Also on the cover, in all caps: "ADRIEN BRODY LOVES BEING FAMOUS." Brody never said he loved being famous. It was not something he'd ever expressed. Not only was the coverline incongruous to who he was, but as an actor who'd only recently climbed into the industry's highest level of visibility, he was still digesting the ways his life would change as a public figure. "I was so shocked by it," he says now, over breakfast at the Whitby Hotel in New York. "It was so flippant. It just…" He hesitates, as if debating whether to complete the thought, because he is otherwise unfailingly polite. "It made me look like a dick."
Brody is once again sitting for a cover story. He's come straight from Good Morning America, the popular breakfast TV show, and is still wearing "make-believe clothes" lent by a stylist: a white button-up and a smart black over-shirt. His appearance this morning had gone well: "Quick and painless. It was literally two minutes. I mean, it's a whole to-do, and then you're on, thinking 'I hope I don't blow it!' And they're, like, 'Good morning!' And I'm, like, 'Hello!' And then they're like, 'Goodbye', and then I'm like, 'I love you, thank you!'" Because the show had run smoothly, his publicist had texted me to say he'd be early for our appointment. I arrived early, too, and through the hotel window I could see him pacing the pavement in a leisurely manner with a phone pressed to his ear, enjoying a conversation. He was talking to his father. When he breezed in minutes later – 6ft tall, a spring in his step – he smiled in an avuncular sort of way, and told his dad he had to go, that he was headed into a meeting, and that he loved him.
Brody and I are here to discuss his latest film, The French Dispatch, which follows a group of expatriate journalists and the colourful subjects of their features and profiles. I tell him it must be difficult to sit for an interview without knowing how a reporter will paint you. "I believe that you're listening, and you don't have your point of view to pitch, and I really appreciate that," he says, with a shrug. After close to three decades in the film industry, he accepts that speaking to the press is part of his job. Even so, it can be frustrating to "genuinely give your time and try to share, and then it somehow becomes contorted. It's not that it's been edited. It becomes shifted and filtered through all kinds of different points of view. And then, depicted as you. A rendition of you."
In The French Dispatch, Brody's character, an art dealer named Julian Cadazio, is the one doing the shifting and filtering. After discovering a transcendent abstract painting by twice-convicted murderer Moses Rosenthaler at a high-security prison's arts-and-crafts showcase, Cadazio vows to transform the convict into an international art star, even though he is in prison himself, for tax evasion. Cadazio demands to buy the painting and asks the artist to share his life story: "Where did you learn? Who did you murder?" He wants the gory details so he can commission a biography, generate hype and boost his own profile. There's only one problem: Rosenthaler doesn't care about any of that. He just wants to continue painting his muse, Simone – who also happens to be the warden.
The French Dispatch, which is directed by Wes Anderson, is structured like a magazine issue, with six sections united by the fictional magazine's journalists, who narrate each of the short films. Brody's storyline, titled The Concrete Masterpiece, functions as a parable about the commodification of art and artists. "Adrien's character says – and I'm paraphrasing – that the whole point of an artist making art is to show it," Benicio del Toro , who plays Rosenthaler, told me. Brody and del Toro discussed that matter at length. "It's the same for film people," del Toro continued. "Being an actor in movies is very similar. There's no movie without an audience. There's no artwork without an audience."
Brody was born in 1973 in Woodhaven, Queens, to the longtime Village Voice photographer Sylvia Plachy, whose photographs were acquired by the Museum of Modern Art when she was in her 20s, and Elliot Brody, a professor and self-taught painter. Even as a boy, the young Brody loved to act. "I would often reenact things I saw that were interesting to me…" he says, "specific mannerisms, or retellings of conversations and experiences that struck me as unique." For a while, he performed magic tricks at friends' birthday parties, using the moniker the Amazing Adrien. When his mother learned about the American Academy of Dramatic Arts, through a photography project, she encouraged him to enrol in acting classes. At 12, he started performing in theatre productions around New York; a year later, he played the lead character in Home at Last, a historical film for public television about a city-dwelling orphan who gets adopted by a family in Nebraska.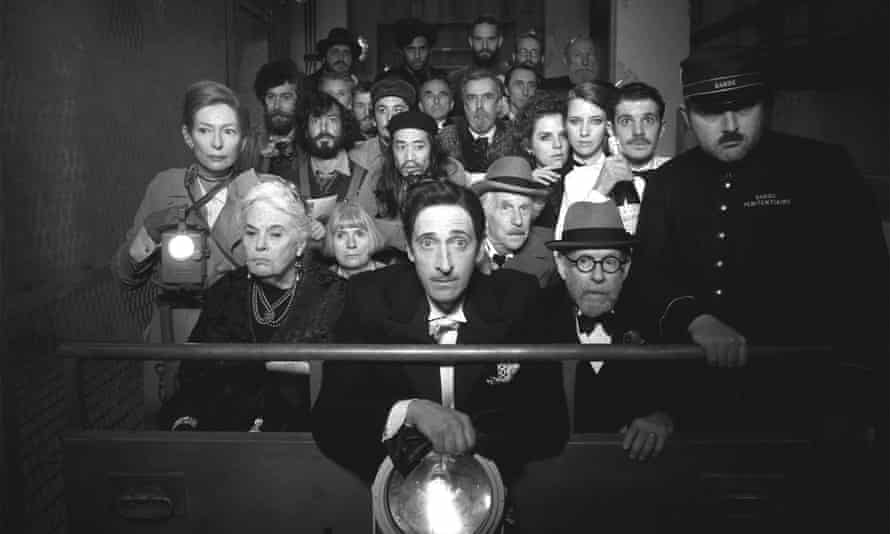 As a child, Brody was also a prolific painter. He applied to study fine art at Fiorello H LaGuardia High School, which is best known as the performing arts high school in Fame. He was rejected. But in a fortuitous plot twist, he was accepted by the drama department. So while some of his friends became active in the street art movement of the 1990s, Brody was busy acting in films like Francis Ford Coppola's New York Stories and Steven Soderbergh's King of the Hill. He received rave reviews for his breakout role in Spike Lee's Summer of Sam, in which he played a punk outcast. And then he landed the lead in Roman Polanski's The Pianist, which would earn him the Oscar.
Throughout the 2000s, Brody became one of the most in-demand actors on the planet. He appeared in M Night Shyamalan's The Village, Peter Jackson's blockbuster King Kong remake, and The Darjeeling Limited, his first Wes Anderson film. "I tried to respond to material without the same point of view I had before," he remembers, "which was to take risks, to explore interesting, different characters and genres."
But roughly a decade ago, he became frustrated by the fact that no matter how much work he put into a film, it would never fully match his vision for it. As an actor, he realised, he could only ever be one part of a director's idea – a cog in the machine – and that his performance would be "enhanced or diminished by the collective work of the people around you". Brody became downhearted by Hollywood, which necessitated him accepting parts in big-budget films he found less valuable. "If you do really interesting independent movies that don't open, then you don't have a lot of value, in the business sense," he says. "With regards to your cachet and your ability to find yourself in meaningful roles in bigger movies that require a bigger investment, those are exclusive to those who are bringing in bigger numbers. And the only way to bring in bigger numbers is, you have to do a certain type of film."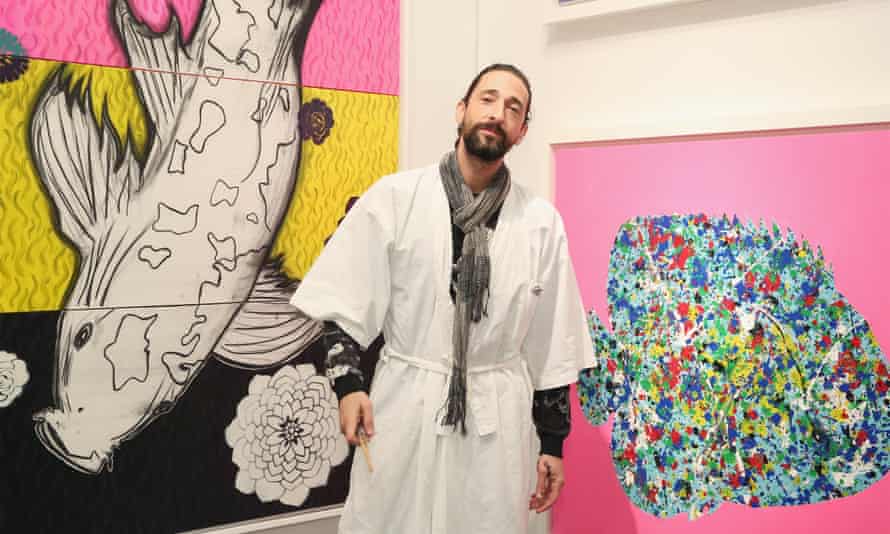 Eight years ago, the French artist Georges Moquay visited Brody's house in upstate New York to work on some paintings. The pair had hit it off at Art Basel, where Moquay had shown his work years earlier. There was some leftover canvas laying around, so Moquay suggested Brody pick up a paintbrush and make something with it.
"I did," Brody remembers, "and he freaked out on it. He was like, 'Why aren't you painting?' I said, 'I don't know!'"
Brody realised painting could fully belong to him in a way acting couldn't; it could be his medium for constructing tiny, private worlds. "I felt such creative freedom," he says – in some ways, more creative freedom than he'd felt in Hollywood. Since then, he has rented studio space wherever his films are in production, and is now in the process of building "a massive studio in the countryside". Lately, he's been doing a lot of collages, partially inspired by the layers of paper and paint he would notice on the walls of New York as a kid. "There'd be something scratched off and written, partially legible, and some old advertisement that was torn away, and I would just love that."
During the pandemic, Brody's art practice served him well. While shooting See How They Run, a midcentury, London-set whodunit co-starring Sam Rockwell, Saorise Ronan and David Oyelowo, Brody stayed home and painted when he wasn't on set during lockdown. "I'll be broken from painting on the floor for a week straight, like, it's hard to get out of bed. It's crazy how immersive it is, at times." He shows me a few studio photos on his phone, and I realise he's not exaggerating; Brody paints 16ft canvases on the floor, like Jackson Pollock minus the splatters. It really does look like a workout.
"They say actors really are attention-seekers, but I'm very introverted," he explains.
In 2016, Brody stopped looking for work altogether. "I had some previous work that was still coming out, but I passed on most acting projects for several years," he says. But recently something has shifted. We talk about the dizzying six projects he has shot over the past two years: The French Dispatch, Succession, the Stephen King adaptation Chapelwaite, the Netflix Marilyn Monroe biopic Blonde (in which he plays an Arthur Miller-like character), See How They Run, and the as-yet-untitled Adam McKay HBO series about 1980s era LA Lakers, where Brody stars as legendary coach Pat Riley.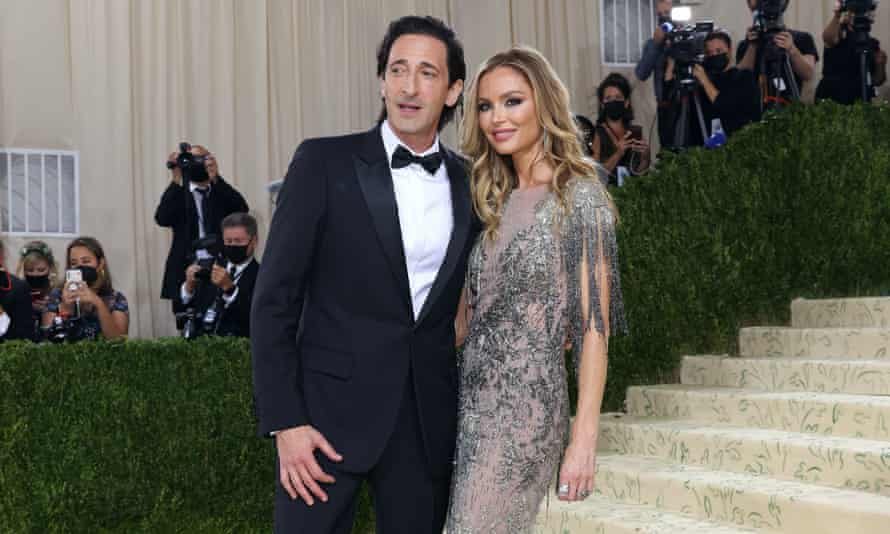 "I feel like there's more, actually," he says, sprinkling hot sauce on some scrambled eggs. There's Clean, the Tribeca film he scored, starred in, and co-wrote, plus a script he's currently writing, which began as a feverish brainstorm in the halls of the Prado Museum, in Madrid. He seems to have more creative energy now than ever. "It's a special time," he says, with a twinkle in his eye. "I can't really put my finger on what it is. Maybe it's something within me, I've welcomed more in." He expresses gratitude that "interesting filmmakers" are approaching him with "well-written characters."
The French Dispatch marks Brody's fourth collaboration with Anderson. (He recently signed up for a fifth, Asteroid City, which will be set in Spain.) Anderson sets are "unique environments" that extend beyond the film itself, Brody says. "Everyone comes home to the same hotel and we all have dinner together every night." He makes the production sound like a roving summer festival, or a close-knit theatre troupe. (Del Toro, "the new kid," says Brody was "very welcoming and generous, and he quickly made me feel like I was a part of the troupe. I'm very grateful for that.")
"So often, when you're away and you're on location, everybody has their own lives, they're all busily dealing with their own thing. It's far less of a community than it could be," Brody says. "Wes creates this sense of everyone joining the conversation." He became hooked on the approach after their first movie together, The Darjeeling Limited, which co-starred Owen Wilson and Jason Schwartzman and was shot almost entirely on a hired train in India. "It was like a group of brothers – we were experiencing all these things as we were doing them."
There is precise choreography to an Anderson scene, he explains, because a "rigorous" level of detail is required to hit each beat. "He hears the music," Brody says of Anderson. As an actor, "you have to be able to hear that music and catch it." Especially during a scene like the grand finale of his French Dispatch storyline, a long tracking shot where the cast fires off lines like dominoes, "you really don't want to be the weak link" who flubs the line, he says, forcing the entire scene to reset. "You have such a responsibility to lift everyone else up."
We pay the bill and leave the restaurant. He's meeting his girlfriend of two years, Georgina Chapman, the Marchesa designer and ex-wife of Harvey Weinstein. (The pair confirmed their relationship earlier this year on the red carpet of the Tribeca Film Festival, and have since made appearances at Cannes and the Met Gala.) After lunch, he plans to visit his parents in Queens before boarding a flight to Los Angeles to resume shooting Adam McKay's HBO show.
There are two cars waiting for him outside the hotel: a black Mercedes with a driver and a compact black sedan driven by Chapman. He's getting into the car with Chapman, so he offers to let his driver take me to my next appointment downtown.
Though he's been a fixture in American cinema for years, Brody still seems like a puzzle to many fans, which isn't a bad thing in an era defined by its online self-mythologising. "I feel like it's difficult for people to separate who you are from who they think you are, and the characters that you played. Now they just Google who you are, and get whatever someone else has thought or said about you," he'd told me earlier. "If you look at my work, it's very hard to say, 'This is the kind of actor that he is.' 'This is the kind of person that I am.'"
And you feel that's the way he likes it.
The French Dispatch is out now
Stylist Christian Stroble; stylist's assistant Makaela Mendez; digital Maria Noble; lighting Kendall Connorpack, Sebastian Keefe and Tobey Lee; grooming Natalia Burschi using for hair R+Co, and Makeup, Tom Ford.
---
Source: https://www.theguardian.com/global/2021/oct/24/adrien-brody-interview-actors-are-attention-seekers-but-i-am-an-introvert
October 14, 2021
Nearly 20 years after winning an Oscar and staking his claim as one of his generation's most serious actors, Adrien Brody is finding a glorious new gear.
Adrien Brody comes bearing fruit. We meet in the parking lot at the base of a popular Los Angeles hiking trail, and he quickly hands over the bounty he's prepared for us: a plastic container full of cherries and watermelon, along with a couple of bottles of water, some fresh-squeezed orange juice, and two pieces of buttered toast wrapped in a paper towel. He's a charmer, no doubt—but also an actor who relishes doing the deep work of preparation, no matter the role. We eat sitting on the curb. It's not quite nine in the morning. The cherries are terrific.
Brody is 48 now, and has been acting professionally for more than 30 years. In that time, he's become known for the intensity of his commitment to the job: losing weight or gaining muscle or crawling across the forest floor for a part. "I would do whatever it takes for a role," he says, "and everybody in my life understands that and respects that." Like all actors, he's had highs and lows, but maybe because of that intensity, Brody's highs have felt higher—and his lows perhaps lower—than many of the actors we think of as his peers, and whom he calls his friends. He is still the youngest best actor winner in Academy Awards history. He also decided, not long ago, to spend a few years doing anything but acting.
This fall marks an unusually prosperous stretch for the actor. He's in the third season of Succession, in which he'll play an activist investor butting heads with the Roy family. After that comes The French Dispatch, his fourth film with director Wes Anderson. (Their fifth is already under way.) And sometime next year, he'll appear as two legendary figures: the playwright Arthur Miller, in Blonde, the Netflix film about Miller's wife Marilyn Monroe, and the basketball coach Pat Riley, in Adam McKay's HBO series about the 1980s "Showtime" Los Angeles Lakers. Keenly aware of how often these things are left to chance, he's excited that so much is happening at once. "I did a lot of fun stuff, but now we're catching it at a good moment," he says. Brody has always applied his maximum-effort Method approach, no matter the quality of the material. And oftentimes, his work was the best thing about the films in which he appeared. Now, though, he's got a run of parts in projects with auteur-level creators that finally seems properly calibrated to his abilities—and that seems likely to show audiences a different kind of Adrien Brody.
When we meet, the Lakers series is still in production, and as we set off on our walk, Brody—in hiking boots, a Yankees cap, and aviators—explains that something a little strange is happening with the Riley role. Brody didn't know much about the coach prior to preparing for the part, but he quickly learned that Riley's story was more complex than he realized. Before Riley became a Hall of Fame coach, he had been a college hoops star, Brody learned, and then a reserve on a title-winning Lakers squad. After a nine-year pro career, Riley hung it up at 30 and, as Brody says, "found himself out in L.A. trying to figure out what his place was within the sport, and not really being able to accept early retirement." After the Lakers' then head coach suffered a horrific cycling accident, and the assistant coach who replaced him was subsequently fired, Riley wound up in charge of what would become the signature team of the 1980s. "One man's misfortune, essentially, created an opportunity," Brody explains. When McKay was casting the show, he and Max Borenstein, the series writer, needed an actor who could reflect the coach's duality of spirit. Brody seemed perfect, "because he is a unique mixture of stylish confidence and vulnerability," McKay tells me in an email. "And that's a perfect description of Riley. Although Riley obviously doesn't advertise or isn't quite as comfortable with the vulnerability as much as Adrien is. But it's clearly there."
That's the Riley he's been thinking about: not the swaggering, Armani-suited icon but a young man worried that his best years are behind him, baffled by the circumstances that have landed him in what should be an ideal position.
It's funny, Brody says, just how much Riley's story seems to echo his own. Living with the comparison these last few months has given him ample reason to think back on the strange storm that seemed to settle over his life and career after he won his Oscar, in 2003, for his work in The Pianist. Back then, Brody struggled with the same sort of contradiction Riley faced when he was handed the reins of the Lakers: He was ostensibly on top of the world and yet felt unable to control the trajectory of a career that might have peaked terrifyingly early. In Brody's case, the rush of fame and work that followed the film provided a measure of security, but the experience also left him depressed and with an eating disorder, and it permanently reordered the expectations—his own and the industry's—about how his career should go, about what success might look like.
As he's explaining all this, pausing for winding digressions about the nature of luck and the vagaries of independent film production, we're stopped in the middle of the trail by a leather-skinned hiker with a thick New York accent. He recognizes the famous actor and introduces himself as Jack. He tells us that he used to know Gerald Gordon, an acting teacher with whom Brody took some classes when he first moved to Los Angeles. Jack explains that Gordon once prepared him for just this moment, having instructed him to send along Gordon's best wishes should Jack ever happen to run into Adrien Brody. Which sounds improbable, only it's exactly what has just happened. Jack seems as confused as we are. Brody offers his appreciation and elegantly ends the conversation.
Perhaps thanks to Brody's open-to-the-moment training as an actor, or maybe just his congenital sensitivity, humdrum events like these—a hike, a chat with a friend of an old teacher, a discussion about what he's working on these days—have a way, in his life, of feeling freighted with a special charge. Metaphors, I learn over the course of our time together, tend to follow him around—some days like a litter of puppies, others like a colony of angry wasps.
He's spent his career pouring every ounce of himself into his roles. But right now, with the Riley job and everything else around it, he seems ready to learn from the work. Helpful lessons abound, if we're ready for them. "I'm just trying to live openly and fearlessly," he'll tell me later.
As we make our way up the hill, Brody pushes the pace. He turns back to me. We've been hiking for maybe 15 minutes. "So, anyhow," he says, "that's how, if you're lucky enough, you can find new chapters opening up for you."
Brody spent the summer shooting the Lakers show in various locations across Los Angeles. Every morning, he'd fold his lanky frame down into his blacked-out, souped-up, stick shift Fiat, and pilot it from his home in the Hills to wherever the production was based that day. He quickly came to love his commute—or maybe less the specific commute than the small joy of finally getting to have one. Much of his work as an actor has taken place in less comfortable climes. He long ago noticed that his friend Owen Wilson somehow managed to always wind up acting in movies that shot in town. Brody wasn't so lucky. "Owen would live in Santa Monica and have a movie in Santa Monica," he says. "I'd be in Bulgaria in wintertime, and Owen would go down to Santa Monica, like five blocks, and probably be allowed to go home for lunch. It's an amazing thing," he says, having a job he can drive to.
It is true that if you were making a movie set in Santa Monica, you might not cast Adrien Brody. If, however, you were making a film that needed a face easily contorted into Eastern European-inflected despair, or that required the sort of actor who might regard a low-budget indie production in the Balkans as a kind of glorious adventure, Brody would be your guy.
Some of this is plain anatomy. He's got the ski-slope nose, and the wide, deep-set green eyes, and a pair of eyebrows tilted up in permanent expectation. He looks wry but also a little sad. His voice—raspy, nasal, flecked with wiseguy—feels out of time. Wes Anderson appreciates this quality. "A rare thing with Adrien is that, if it became necessary for him to suddenly have to work in about 1935, rather than 2021, he could do it," he tells me in a drolly narrated voice memo composed in response to my questions.
Brody comes by it all honestly. His mother, the photographer Sylvia Plachy, left Budapest for Vienna as a teenager, around the time of the Hungarian Revolution, and eventually arrived with her family in New York, where she would later begin shooting for the Village Voice. His mom's life and work gave her an ability to "see the complexity that most people miss, everywhere around them, and catch it. And immortalize it. And through that lens, I've seen the world," he says. He was a sensitive kid, upset about that quality in himself until he realized that it could be a gift too. Performing opened up a new way of relating with the world, he says: "Fortunately, there were these outlets: There were wonderfully complex human beings to step into, that I could relate to in one way or another. And purge, I guess, or, participate in another human being's suffering, and not feel alone in my own. And then understand the universality of all of our suffering and joy, but embrace the moments of joy and honor the vast suffering that unfortunately is the pervasive underlayer."
Mom came back from an assignment to shoot at the American Academy of Dramatic Arts with a feeling that her only child—a budding magician and a natural performer—might like to study acting formally. Before long, he was taking four acting classes a day at LaGuardia High School and eventually had booked a part with Francis Ford Coppola in New York Stories.
That one-day job provided lessons that endured: When the script called for a couple of girls to show a strong aversion to the awful cologne being worn by Brody's character, the director doused the teenage Brody. "Coppola went full Method and poured a bottle of really shitty cologne all over me, so that the girls had something to react to," Brody recalls.
When Brody was 19, Steven Soderbergh directed him in his Depression-era film King of the Hill. Anderson remembers seeing it with Owen Wilson and being captivated by Brody. "It was one of those entrances where you can just feel instantly, Oh, this is a movie star!" he says. "He sorta smiles his way through it a bit, and he seems so relaxed. And he just grabs you, instantly."
For a while, stardom for Brody seemed just on the edge of the frame. He scored a big role in The Thin Red Line, only to learn that director Terrence Malick had mostly cut him out of the film, and stole scenes in Spike Lee's Summer of Sam as a liberty-spiked New York punk. Brody kept plugging away.
As we talk, the trail ends and the two of us are deposited out of the canyon and onto a quiet street, a leafy cul-de-sac plump with large homes. Up ahead is the road that will lead us gently back down the hill, to the spot where we left our cars. Brody has a different idea. "I know another way out," he says, appending a bit of a warning. "But it's crazy." Sure enough, he locates a new trail. It's a narrow, steep single-track path that is presently baking in the midmorning heat. We take it.
It is Adrien Brody's gift, but maybe more often his curse, that he lives for difficult roles. And not just the difficult ones—the ones that beat him up physically, that test his sanity. "I always go, 'Why did I take this? Why do I want to do this?' " he says. "I'm very excited to do almost anything for a character. Like, I've eaten worms. I eat ants. I jumped out of helicopters. And then only afterwards you go, Wow, that was really dumb. Like, why did I do that?"
The answer is always the same: "Because you want to be fearless. It takes over any better sense of judgment that you should have, and you just go with it."
He was 27 when Roman Polanski gave him the chance to put his thoughts about acting and suffering to the test. In The Pianist, a true story of endurance and devastation, he played the title character, Władysław Szpilman, a Jewish musician who survived the Nazi occupation of Warsaw. To prepare, Brody carved his life down to the bone. He sold his car and disconnected his phones. He gave up his apartment and put his things into storage. He spent his days alone in hotel rooms in Germany and Poland, practicing the piano.
"It was an enormous responsibility, and it changed me," he says. Physically, the shoot was a nightmare. He was depressed for a year after production wrapped, and unhappy with a body ravaged by a crash diet that got him down to 130 pounds. The whole thing left him with a sadness that lingers still. "But I had no idea what was coming," he says. "I had no idea."
"I aspired for more, and it felt like my theory of contributing and pouring my blood, sweat, and tears into a project didn't yield the results."
Of course, The Pianist was rapturously received—most especially for Brody's haunting performance. He was nominated for an Academy Award and was seemingly admitted to that rarefied realm reserved for our finest, most committed (and possibly most berserk) actors. He lodged in the public imagination as perhaps the next Robert De Niro or Daniel Day-Lewis—the off-kilter, not-traditionally-handsome-but-still-obviously-sexy leading man who will be every director's first choice for every serious movie made for the rest of his life.
The week of the Oscars, Brody got a call from Jack Nicholson—they were both up for best actor, alongside Day-Lewis, Michael Caine, and Nicolas Cage. The United States had just sent troops to Iraq, and Jack called the nominees up to his house in the Hills to talk about how they should respond. It was a shock. The first time they'd met, Brody says, "He was calling me Brophy, and now Jack's inviting me over to his house. I'm there with Michael Caine and I'm there with Nicolas Cage and they're sipping scotch and they're smoking cigars and we're sitting around in a little circle." All but Brody were previous Oscar winners. Nicholson suggested that they not attend the show, in protest of the war. Brody said, "Hey, I don't know about you guys, but I'm going. But I agree with you: I think that whoever is called to the stage has some responsibility to acknowledge what's going on." He just didn't think it would be him.
And then it was. Brody hadn't expected to win—the morning of the show, he remembers sitting on the curb on Beverly Boulevard outside a diner in Hollywood, overwhelmed at the enormity of it all, while his visiting parents waited for him to collect himself. But the win wasn't dumb luck, either. He had put everything he had into the role, and the experience seemed to solidify his conviction that, with enough effort, he could embody and portray the rawest extremes of human experience. It was insane to think he could come close to understanding the suffering of a Holocaust survivor like Szpilman, but there was a sort of euphoria in the effort of trying. "It was like the hardest thing I experienced on so many levels, and then anytime I started wallowing in my own minute suffering, I had this perspective," he says. He learned a simple, indelible lesson: Making great art is painful. Which is why it's also pretty much the only kind of art worth trying to make.
His secret, if you could call it that, was that he wasn't always acting. "I've worked with actors who are brilliant and don't look insincere, but can merely act. They can create," he says. "It's a wonderful magic trick. They can act like they love you, and they really don't. And it takes work for me." In one scene in The Pianist, he had to clamber over a wall, bust his ankle while landing on the other side, and stumble off, limping. So he stuffed a sharp rock into his shoe. It hurt to land on, and then to walk on, too. "Why have to think about acting a limp?" he asks now. "Just hurt for a minute. Just do it."
Even now, working through a series of virile icons of American masculinity—Riley; what Brody calls his "shark" of a Succession character; Marilyn Monroe's husband—this way of thinking comes in handy. "There's no swagger without damage," he says. "In fact, probably, most people swagger as a result of a lot of damage." A swagger, he reasons, being itself a kind of limp.
The audience might only catch the smallest glimpses of this—the armature of pain Brody erects beneath each character's surface. But he knows it's there. "That's essential, at least for my process," he says. "I don't always need a rock. But I do often have a rock." An actual rock, he clarifies, can be useful to convey all manner of emotions, even if his character doesn't have a foot problem.
"Now you're learning all my secrets," he says, laughing. "Fuck. Even when I'm not limping. That's why I look so melancholy. I have a fucking rock under my foot."
One thing Brody stresses as we walk is how unlikely this all was—how many tiny impossible things have to go right to make any movie, let alone one that sends its actor through the gauntlet of awards season and out the other side with a business card that reads Hollywood Darling. "You know, those things don't necessarily happen, ever," he says. "But the expectation can be that they should happen regularly."
It took him a while to outgrow that expectation, and so the years that followed his Oscar win were disorienting. "I had been acting for 17 years, and people would recognize me, and it was normal," he says. "Paparazzi, they couldn't care less. No one followed me. No one started behaving strangely. No one did odd things. And then a lot of oddness happened." After the Oscar, every interaction with other people was somehow different. "It was as if a storm rolled in," he says. "Everything started blowing away—the life I knew."
Don't change, people kept telling him. Don't change. So he didn't. But then they went off and changed. They talked to him differently. Friends wanted to go into business with him. Photographers wanted to take his picture. Directors wanted him for their movies. None of it quite felt right. "It feels like it was a decade of finding out who and where I was. A lot of living and losing and winning and losing," he says.
For a while, he had the uniquely bad luck of appearing in a number of panned projects by particularly well-liked filmmakers. He did The Village, M. Night Shyamalan's first big wobble. Peter Jackson's big-budget remake of King Kong. Wes Anderson's dreary The Darjeeling Limited. Rian Johnson's The Brothers Bloom. All logical choices, on their merits; all performances characterized by Brody's uniquely intense brand of pathos; all unlucky outcomes, by harsh Hollywood accounting.
He dreamed of getting away—of finding a place somewhere in upstate New York, the kind of house his dad would point out in the real estate listings when he was a kid. His friends Mark Ruffalo and Vera Farmiga had places away from the city, proving that escape wasn't incompatible with a Hollywood career. He was dating the actress Elsa Pataky at the time, and he thought they could do the same thing. "I had way too much attention for my liking, and I thought I could retreat, come in, do my work and have this honest… I don't know why, but I imagined it would be simple."
Brody being Brody, it was not simple. He was working on a movie in Serbia and poking around at real estate listings online when he found the Stone Barn Castle. The enormous cobblestone-and-cement home, some four hours outside New York City, featured stables for horses and even an apple orchard. Brody was smitten. "I'd been dreaming of something dramatic," he says. He bought it, and surprised Pataky with the purchase.
They set about on a massive renovation. But the relationship ended before they could move from the guest house to the main building.
It would be three or four years before Brody could move into the main house himself, so intensive was the construction. What began as an escape became an all-consuming project, equal parts distraction and balm. He traveled to India and China to find the right materials. He bought church windows and hand-hewn beams from farms in New York and Pennsylvania and Canada. He had a team re-pointing stones for four years. Free home makeover advice from Adrien Brody: Don't worry about re-pointing stones. "I employed a group of men to come and chisel away every stone, underground and up above. And then when it's all done, it looks the same. It is a little bit neater." That feeling suffused the whole project: "I don't know what the purpose of it really is yet," he says. "But it is an achievement."
And then, five or six, or maybe eight, years ago, he looked up and realized that his day job wasn't getting any easier. He was still applying the maniacal effort that shot him to fame, but the work no longer seemed to repay his exertion. "There was this protracted period where I realized that that path wasn't working, for whatever reason," he says. "I aspired for more, and it felt like my theory of contributing and pouring my blood, sweat, and tears into a project didn't yield the results. There was a disconnect somehow to what I had done for so long, and it just wasn't working." So he stepped back. He finished off the projects he was working on, and said no to the ones that came in. He grew his hair long, and started wearing a beard. He hung out with artists and started painting. He made music. He traveled the world.
Eventually, he came to understand the hobbies he'd thrown himself into less as attempted diversions from acting and more as ways of buttressing his belief in his own creativity—different, and often less painful, ways to channel his energy. "That's living, that's not running away," he says. "It's being present with something, and trying to create something that endures."
Initially, our plan is to meet again the next day to talk over lunch. But as we nosh in the parking lot after our hike, we figure: Why not do this again tomorrow? We'll have to get up a bit earlier, to account for the heat, but Brody is game and so am I. Later that night, he sends along coordinates that I follow, at 7:30 the next morning, to a trailhead near an eerie old abandoned zoo complex. This time, Brody has packed a container of sliced peaches and blood orange, and brought along little oyster forks we use to spear the fruit.
Almost immediately, Brody's attention is captured by a squirrel hiding in a nearby rock. He crouches, willing the creature over, and apologizes to the squirrel for not having brought food. "I'm sorry," he says. "I'm not prepared because I didn't know I would meet such a cute little dude." Brody is patient and still, and it's working—the squirrel comes within a few inches, then retreats, then comes closer again. They repeat the dance until the animal is a whisker away from Brody's hand. "Adrien Brody makes very authentic squirrel noises," he says, anticipating how the interaction will appear in this story, "then communes with the wild animal right before me in the zoo." This lasts about five minutes. "I gave him his chance to bite me," Brody says, after he's broken eye contact with the squirrel. "He didn't do it."
Brody is still putting it all out there—still giving the squirrels of the world plenty of chances to bite him—but lately things have been breaking his way. He's in a happy relationship with the fashion designer Georgina Chapman. (Because Chapman was previously married to Harvey Weinstein, Brody has again become something of a tabloid fixture. "Life works in mysterious ways—put it to you that way," he says of the relationship. And then, later, about the strange way his relationship has come to be something in which the public feels invested: "What could I say about that that would make it anything other than what it is?")
He found his way back to Hollywood, first in bits and then all at once. He spent a while writing and then making Clean, a movie about a New York sanitation worker with a tortured past, which will be released next year. That project let him explore some deeply held ideas about what makes for compelling drama, in filmmaking and in life: "Everything has got to work against you. And then if you make it through, that's somewhat heroic, and that's real life, and that's what everybody faces every day." (He also got to indulge a longtime passion: His character drives Brody's personal matte-black 1987 Buick Grand National. "It's a beautiful car," he says. "Very menacing.")
After sitting things out for a little while and gaining some new perspective, he found that "interesting filmmakers were coming to me with things." Many of these projects have freed him from the responsibility of being the leading man forced to suffer for the audience's enjoyment. Instead, he gets to do sharply observed character work. He steals scenes, and cracks jokes.
He especially loved tangling with Brian Cox and Jeremy Strong while making Succession's third season. "Here I am jumping in with these big sharks really in their element, their ocean," Brody says. "And then I have to jump in and bite back. I like the thrill of that." He knows a couple of guys like his character, he says, billionaire hotshots. I ask if he's hit them up to pick their brains on the finer points of the executive lifestyle. "No, no, I don't even need to," he says, smiling like he's just completed his own piece of corporate dealsmanship. "I've already picked it! I already own it!" Brody says he's enjoyed operating in the show's raw, funny register. "I tend to harp on a lot of the heavy things that I see in life," he says. "But there's a lot of humor in even the not-so-nice qualities of people that you know. Certain things that come out and you go, 'That was odd,' or 'That was a little offensive.' "
Elsewhere, he's tipping into pure comedy. In The French Dispatch, he plays a slick art dealer who recognizes, in a painter imprisoned for murder, the future of contemporary art—and, joyfully, he gets laughs. Directed by Wes Anderson, it's the latest in a collaboration that is helping him rewrite the trajectory of his career. "Wes allowed me to have fun," he says. More than that, it seems that Anderson showed the rest of Hollywood that Brody could have fun, too. "It isn't something he had to pull out of a hat," Brody says of Anderson, charmingly insistent that he has learned to loosen up and have a little fun.
Of course, Brody still relishes the tough work. Andrew Dominik, director of the Marilyn Monroe biopic Blonde, praised Brody's unwillingness to polish his portrayal of Arthur Miller. "He's playing a character who's not being seen sympathetically," Dominik tells me. "And often where an actor is playing a part that's unflattering, they will sort of be more of an asshole. It's a way of saying, 'I'm playing an asshole, but it's not me.' And Adrien's instinct was completely the opposite." This year's Chapelwaite, meanwhile, was an old-fashioned Brody sufferfest. The Epix series, adapted from the Stephen King short story Jerusalem's Lot, was pure gothic horror, but Brody was nonetheless able to draw from experience: He played a man driven to insanity after coming into possession of a haunted house.
With time, Brody has gotten a little wiser about what is worth suffering for. By way of explaining this shift, he tells me a story about a movie he made more than a decade ago. Wrecked was a queasy thriller that opens moments after his character suffers amnesia (and worse) after crashing his car into a ravine. Brody appears in nearly every shot, in varying degrees of agony. "You just watch me scream and flail about for a couple of hours" is how he describes it. The shoot was brutal—the character spends the whole movie with a broken leg, which meant that Brody spent most of the production crawling on his stomach across the forest floor. After a while, he started using the backs of his hands to crawl, since his palms were stuck full of thorns.
One day, the crew was shooting by a river, and Brody noticed that the rushing water had carved this perfect little oval pool in the center of a rock. In this pool Brody saw "a drowning earthworm, undulating on the bottom of the stone." It looked like one of his mother's photographs. This little worm—drowning but still wriggling for the surface, fighting a battle Brody could see it was doomed to lose—filled him with emotion. This, he knew, was why he was suffering through the shoot—this was his character in a single shot. "That guy's not going to make it, and it's so beautiful," he says. "It's so picturesque and tragic, and it encompasses all that we're saying." He asked the director to shoot it.
But Wrecked was an independent feature, strapped for cash and perennially low on time. The director said no. Brody asked again. The director said no again. "I'll eat it," Brody offered. The director asked for his camera. Brody ate the worm.
"It was disgusting," Brody tells me. "I think it got me sick."
He paused. "But it's in the movie."
He shares this story with me on a rocky trail high above sunny Los Angeles, the exciting third act of his career laid out like the freeway humming beneath us. Thinking back on the worm he ate, Brody wonders now what purpose his sacrifice really served. "For what benefit?" he asks. "Who even notices it?" Wrecked was a little-seen indie, and you can barely spot the scene if you're not looking for it. He knows he didn't have to do it. "But somehow," he says, "I'm compelled to."
What he's learned, I think, is something about his own expectations. Something liberating, perhaps. You don't need to believe that eating a worm will turn a fine movie into a great one. Or that re-pointing the below-ground stones—the ones nobody will ever see—will redeem a years-long renovation debacle. Doing the hard thing isn't always the answer. Suffering doesn't make you a better artist, and it definitely doesn't make you an easier person to be around. But you can't learn what you're really made of without doing your fair share of suffering.
I'd asked him, earlier in the day, why he held onto his castle—whether, once the renovation started dragging on, he'd ever thought about just getting rid of what had become, inescapably, a very expensive reminder of a difficult time. He'd considered the idea. Of course he had, he told me. How could you not? "I could've sold. I could've got out immediately and said, This is too much," he said. And then, as if it was the most obvious thing in the world: "But I can't do that."
Sam Schube is GQ's deputy site editor.
A version of this story originally appeared in the November 2021 issue with the title "Adrien Brody Finds His Chill."
---
Source: https://www.gq.com/story/adrien-brody-profile?fbclid=IwAR17eIXCiAiT9xyH5ClWUp0hSjBIMlXXFRLPHWXW4K4Bvxzm0fHj-URhBUY
PRODUCTION CREDITS:
Photographs by Jason Nocito
Styled by Jon Tietz
Hair by Thom Priano for R+Co. Haircare
Skin by Kumi Craig for The Wall Group
Tailoring by Ksenia Golub
Set design by Robert Sumrell for Walter Schupfer Management
Produced by Eric Jacobson at Hen's Tooth Productions
August, 2021
Academy Award winning actor, Adrien Brody, shows that art really does imitate life in the French Dispatch.
Interview & Photographs by: John Russo 
Grooming by: Rachel Burney for The Wall Group
Styling by: Jennifer Austin for Opus Beauty
Location:  Los Angeles
Q: Take me back to playing, Władysław Szpilman,in The Pianist. Could you have ever imagined such an incredible career at that point?
A: Taking on the responsibility of playing Wladisaw Szpilman, was such a tremendous task. I poured every ounce of my being to the project and, in turn, gained an enduring sense gratitude and appreciation — and also a great deal of love and respect from the world. That shift and feeling of connection to so many human beings was so profound that it triumphs the concept of it merely being about an acting career. It has been truly life changing in so many ways and continues to awe and humble me.
Q: You have played so many different roles in your career. Which roles have stood out for you as the most challenging to play and why?
A: Obviously, portraying Szpilman in The Pianist took the greatest responsibility and discipline of the many roles I've played. I felt a great burden to represent that horrible time. It was essential to approach the work with truth and to respect and honor the tremendous loss and suffering of the Jewish people, and for all of humanity. I have had many other challenging roles. A few that come to mind are: A conflicted outsider named Ritchie, in Spike Lee's Summer of Sam. Royce, in Predators, which also required an intense physical transformation. There was quite a bit if pressure to honor the awesome stage presence and technical mastery, and fearlessness of Harry Houdini. Recently I had to embrace a haunted madness to portray Charles Boone, in Chapelwaite, and the pressure is on now as I step into the shoes of the Iconic Pat Riley, in the HBO project I'm working on now about the Los Angeles Lakers.
Q: In addition to acting, you're also an artist. How does creating art help you in your life? Does it create balance? Are you planning any new exhibitions of your work?
A: I believe all forms of creative expression help us find our way — as individuals, and as society as a whole. We commune through art in all of its many forms. We find purpose for suffering, understanding for loss, patience for our differences, and joy and a sense of peace and purpose in the beauty that comes from sharing each other's inspiration. Painting has been such a gift for me. It affords me a creative outlet with a degree of autonomy that allows me to create works that speak to me and at my pace. There isn't a need for a whole production. I work feverishly when I'm inspired, I rest when I can't work and work when I can't rest.
Q: I thought your performance as Dmitri Desgoffe-und-Taxis, in the Grand Budapest Hotel was quite Oscar-worthy. What is it about Wes Anderson's quirky and sometimes bizarre films that brings out some your best work?
A: Thank you, that is very kind of you to say. I am so happy to have gotten to play and collaborate with Wes on so many occasions, and lucky to be lifted up by his greatness. He is such a visionary Director. His work is so unique and funny and precise. I love the strangeness and charming, insightful moments of all his films.
Q: You are set to executive produce and star in "Chapelwaite", based off of the Stephen King short story "Jerusalem's Lot". What was your research process for the role? Did you read the short story?
A: I am really honored to have an opportunity to do something strong within the genre. I have been a long time fan of Stephen King and horror films are a guilty pleasure. Jerusalem's Lot is such frightening and foreboding tale and the evolution of King's material into Chapelwaite gave me a chance to play a heroic father fighting against demons in all forms to protect his family. He, and the story, is utterly relatable and remarkably contemporary even though it is set in the 1850's. I can't wait for people to get to enjoy it.
Q: You're no stranger to the horror genre with films like "The Village"and "Predators". How was the process of adapting and filming the supernatural horror elements in this series?
A: On Chapelwaite we were supported by believers and professionals. It began with great source material the producers assembled a team of fantastic special supervisors, strong actors and great writing. None would be possible without the tremendous support from the Michael right, the head of Epix, and his team.
Q: In your new film, "The French Dispatch"you have teamed up with Wes Anderson yet again. This is such a highly anticipated film. The cast is insane in terms of star power & talent. As art imitates life, you play Julian Cadazio, an art dealer, based on Lord Duveen, an art dealer born in the late nineteenth century. Did being an artist and knowing the mentality, struggles and idiosyncrasies of an artist help you in bringing this character to life?
A: My mother, Sylvia Plachy, is a gifted NY photographer. I grew up in New York steeped in her beautiful and haunting images of my city. Photos of the streets, the culture, great artists like Basquiat, Warhol, Keith Haring. She went to art school and is truly an artist herself. My father, although he was a school teacher by profession, is also a gifted self-taught painter. I am an actor, but painting has always great meaning in my life. I grew up with many friends in the art world and even more friends who are gifted and yet are not a part of that world. I have lots to "draw from," so to speak. There's much beauty and talent, and tragedy and absurdity, and all the colorful characters I have encountered somehow help me depict the ones I portray. Cadazio is no exception.
Q: Season 3 of "Succession"is coming back this Fall. You play Josh Aaronson, a billionaire activist investor who becomes pivotal in the battle for the ownership of Waystar. Were you a fan of the show before you joined this season? What was it like working with the cast?
A: I love Succession. It is one of the best shows ever on television. It's such an honor to get to come and play, even for a little bit, with so many talented people. It's also delicious to play such a powerful, unscrupulous character. I'm grateful to Adam McKay for his great work and inviting me in on this and our Lakers project.
Q: You're currently filming an untitled Lakers series for HBO where you'll play legendary coach Pat Riley. How has filming been so far? What are some challenges of playing a real person?
A: Pat Riley is one of the most iconic and memorable coaches ever. He's inspired and elevated the best players in the league, he's a former basketball star himself, and is beloved. Those are big shoes to fill. What's been most exciting about the Lakers show, aside from the privilege of working with great actors, writers and producers on an expertly crafted series, (shot on film for HBO) is to really understand the journey and the many difficult roads that all of these iconic people have traveled to get to where they are as we know them. Our heroes' lives are full of great challenges and the insight into their personal lives and the many trials and tribulations they must overcome are fascinating.
Q: One of your upcoming films is "Blonde", a fictionalized take on the life of Marilyn Monroe. What drew you to that project?
A: I've loved Andrew Dominik's work since I saw Chopper, and have always wanted to work with him. He's just such a phenomenal filmmaker, with tremendous insight and understanding. Marilyn Monroe's life was one of the greatest and most tragic stories of an actor ever. She was someone who literally worked herself to exhaustion to be appreciated for her craft while most people couldn't get past her beauty and magnetically seductive persona. Although so many people have emulated her, she had it really hard. Ana De Armas' interpretation of her is just spellbinding. It's a tour de force. Arthur Miller remains one of our greatest playwrights ever and he too had an amazing, and challenging life in Hollywood. I loved the experience of making this, it was a feast for me not only as an actor, but also as someone who appreciates the enormous contributions of the characters we portrayed, and the collaborative experience while witnessing my peers reach great heights before my very eyes.
Q: The classic question…what's next for Adrien Brody?
A:  I am at a place of tremendous gratitude. I, of course, hope to continue to find inspiring work on so many varied projects. I have a few things up my sleeve and so much I aspire to accomplish but each day is a blessing.
---
Source: https://giojournal.com/a-tremendous-place-of-gratitude/?utm_source=rss&utm_medium=rss&utm_campaign=a-tremendous-place-of-gratitude
Esquire México – Esquire Latinoamérica https://www.esquirelat.com/entrevistas/adrien-brody-the-french-dispatch-esquire/
Nos encontramos con el Adrien Brody de la mirada nostálgica –el dueño de una de las narices con más personalidad en el mundo– en el acogedor Waldorf Astoria de Nueva York para esta sesión exclusiva con Esquire México. Disfrútenla tanto como nosotros lo hicimos preparándola.
Hay momentos en la vida donde las cosas parecen tomar sentido… pero este no es uno de esos momentos", fueron las palabras que surgieron del actor Adrien Brody al ganar el Oscar por El Pianista, convirtiéndose –a sus 29 años– en el actor más joven en obtener la estatuilla, desde que Richard Dreyfuss lo hiciera por La chica del adiós en 1977. 
Unos segundos antes, Adrien Brody había saltado al escenario del entonces Teatro Kodak, en el corazón de Hollywood, tomando por sorpresa a la presentadora de su premio dorado, Halley Berry, con un beso en la boca que pasaría a la historia de la Academia como uno de sus momentos más eufóricos y controvertidos.
El tiempo se vuelve más precioso. No se trata solo de los minutos del reloj, sino de estar presente.

Adrien Brody
Con el paso de los años, las palabras de Adrien Brody también han trascendido desde esa primavera del 2002, representando esa incredulidad ante ser elegido por algo más grande y ser insertado en una situación extraordinaria.
Los tiempos del 2020, que han recluido a la humanidad tras los efectos del Covid-19, hacen poderosa la reflexión sobre tratar de encontrar un sentido donde aparentemente no lo hay.
"Creo que es una lección que aprendemos conforme crecemos. El tiempo se vuelve más precioso. No se trata solo de los minutos del reloj, sino de estar presente. Ahora, con el encierro de esta cuarentena, quiero sumergirme en las cosas que amo de la vida", comparte Adrien Brody con Esquire, vía un enlace streaming en el cual el actor de 47 años luce enmarcado por un encuadre de Zoom.
A manera similar, entre cuadro paredes se encuentra Adrien Brody en los primeros avances en línea de The French Dispatch (2021) de Wes Anderson, interpretando a Julien Cardozo, un vendedor de arte francés que ha sido colocado en una celda al lado de un famoso pintor, Moses Rosenthaler (Benicio del Toro), al que le ruega le de permiso de representar su obra en el mundo, si algún día se abren los candados de su encierro o llegaran a escapar.
Inspirado en Joseph Duveen, quien en el siglo XX trajera obras europeas a los grandes museos de Estados Unidos, Cardozo es parte de un ensamble de personajes que Anderson convocó para ser personificados por los actores Timothée Chalamet, Léa Seydoux, Edward Norton, Elisabeth Moss, Willem Dafoe, Christoph Waltz y, el siempre presente en su lista, Bill Murray.
The French Dispatch, cuarta invitación de Anderson a Brody, trae consigo el espíritu rebelde de los años 60, des- plegado en las publicaciones de un diario ficticio francés –muy a la revista The New Yorker– con historias, cuentos, caricaturas y anécdotas de personalidades singulares.
Mi mamá es una gran artista y una inspiración para mí. Antes de actor comencé a pintar y lo he hecho toda mi vida.

Adrien Brody, 2020
Todo con el estilo geométrico, colorido y musical que caracteriza a Anderson. "No necesariamente me atraen los personajes con los que tengo algo en común. Tanto Cardozo como yo tenemos un gran amor por el arte y me imagino que él pudo haber aspirado a ser pintor en su vida, pero en algún momento se volcó al aspecto del negocio de ese mundo", refiere Brody, quien posee la fascinación por la imagen como su madre Sylvia Plachy, migrante húngara y fotógrafa profesional con exposiciones diversas.
Cuando en la entrega 75 del Oscar, Brody, desde la butaca, escuchó su nombre de la boca de Berry, a quien primero abrazó fue a Plachy, quien de pie desbordó su fascinación al ver a Jack Nicholson, Nicolas Cage, Nicole Kidman, y otro grupo de celebridades, otorgarle a su hijo también una ovación.
"Mi mamá es una gran artista y una inspiración para mí. Antes de actor comencé a pintar y lo he hecho toda mi vida. Pasé años persiguiendo y cultivando mi trabajo como actor y fue hasta hace siete u ocho años cuando volví a pintar de manera más seria.
He hecho varias exposiciones, trabajando duro en eso. La cuarentena, sin duda, ofrece más oportunidades para hacer más en solitario", dice Brody, quien en agosto del 2019 donó una pintura trazada con sus propios dedos a la UNICEF para ayudar a recaudar fondos.
Cuando en Esquire invitamos a Adrien Brody a su sesión fotográfica, en el corazón del Waldorf Astoria Hotel que colinda en Park Avenue, los ecos de los inicios del actor en el cine seguro llegaron, siendo Historias de Nueva York su primer incursión a la pantalla, dentro de la aventura de una niña que habita un hotel lujoso de la Gran Manzana.
El Pianista … es entender el sufrimiento y odio que vive la sociedad, llevándome en ese año del rodaje a valorar mi buena suerte.

Adrien Brody, 2020
En esa producción de 1989, el propio Francis Ford Coppola fue padrino del inicio de la carrera en celuloide de Brody. A solo unos pocos kilómetros de ahí, en su natal Woodhaven, Queens, el actor había experimentado el arte de asombrar al público, cuando se vistió de mago y se autonombró "The amazing Adrien", ejecutando diversos actos en fiestas para niños.
Pero también ese vecindario fue donde Brody recibió los primeros embates de violencia del mundo al ser atacado por otros niños con crueles comentarios. Su madre fotógrafa y su padre –pintor y maestro de arte–, usaron su sensibilidad para matricularlo en clases de actuación.
A los 13 años de edad, Adrien ya estaba sobre el escenario de Off-Broadway y había participado en una producción del canal de televisión educativo, PBS.
El joven actor creció para dominar su propio cuerpo como instrumento de comunicación, con una complexión espigada y mirada melancólica que recuerda a los maestros de la comedia silente en el cine, como Keaton y Chaplin, sumado a ese perfil de nariz grande que lo coloca por igual como un europeo, un migrante o un hombre con presencia que no quiere doblegarse ante los embates de la vida.
"Al ser actor tienes tus primeras oportunidades y algunas de ellas son tan profundas como aquellas que vendrán después en tu vida, que podrían parecer más trascendentes. Esto es porque esas oportunidades son las primeras veces que tienes acceso a un verdadero crecimiento".
"Por ejemplo, el inicial llamado de un director importante, donde entiendes el porqué siempre debes esforzarte en todo momento para que exista esa dinámica actor y realizador", explica Brody, que similar a veteranos de la actuación como Donald Sutherland, ven cumplida su misión histriónica cuando ayudan a materializar la visión del director.
Sin duda, la alianza que marcó un antes y después en la vida de Brody, fue su colaboración con Roman Polanski, controvertido artista del lente, quien vio en la autobiografía de su compatriota polaco Wladyslaw Szpilman, inspiración de El Pianista, la posibilidad de narrar su propia experiencia de supervivencia en el Ghetto de Cracovia.
"El Pianista fue un viaje épico en mi vida y lo que aprendí, en ese proceso de trabajar con Roman, es entender el sufrimiento y odio que vive la sociedad, llevándome en ese año del rodaje a valorar mi buena suerte como joven neoyorquino, haciéndome consciente de la pérdida y los estragos de la guerra", afirma.
Nunca me imaginé que habría un reconocimiento por mi trabajo.

Adrien Brody, 2020
"Fue algo muy profundo, tanto que no puedo ni poner en palabras lo que la experiencia de filmar El Pianista significó para mí. Fue un gran regalo. Algo que te abre los ojos y que agradeces haya provenido de tu trabajo", siente Brody, quien adelgazó de sus 70 kilos a 55 para su papel de superviviente del holocausto.
Para el filme que lo llevaría al Oscar, Brody tuvo que llevar a un nivel mayor su expresividad de las manos, que siempre le han dado carácter a su actuación, teniendo que aprender a colocarlas y moverlas sobre el teclado del piano lo más semejante a un profesional.
El propio Polanski colocaba en bocinas la música del pianista Szpilman, para que Adrien marcara las notas con esa mezcla de fiereza y delicadeza de su persona.
"Nunca me imaginé que habría un reconocimiento por mi trabajo. Como el joven que era, sentí un despertar como persona. Fue ciertamente un enorme giro en mi carrera y una gran suerte haber recibido un material de tan altísimo nivel y tan temprano en mi profesión", revela Brody.
Así llegó a su manos la oportunidad de colgarse del cine de aventuras y viajar en el mundo, pasión que comparte con sus seguidores de Instagram, como la escalada en Nepal a las faldas del Everest.
Brody lo mismo ha sido el excursionista en la Isla Calavera del King Kong de Peter Jackson, que el soldado de la segunda guerra mundial apostado en el Pacífico de La delgada línea roja, de Terrence Malick.
Igual se ha vestido de detective de cine negro en Hollywoodland, que leído los diálogos de Woody Allen en Media noche en París, ser parte de un thriller para Spike Lee en Summer of Sam que salvando al mundo de alienígenas en el remake de Depredador; ni hablar de su gran escape en la biografía de Houdini.
El mundo volteó a verlo con su interpretación del torero Manolete, en el filme biográfico del mismo nombre, donde Brody pudo llevar su acostumbrada intensidad al terreno del amor trágico, pisando los pétalos rojos lanzados por Penélope Cruz en una cinta cuya sentencia inicial explica un poco esa mirada de Adrien hacia los temas oscuros de algunos de sus filmes.
"Para ser un gran torero, tienes que estar un poco enamorado con la muerte", sentencia. El salto de lo negro a la luz, y de lo sombrío a la carcajada, podrían ponernos a Brody como un danzante en su actuación, nunca sintiéndose cómodo en un sitio y ahora, en The French Dispatch, celebrando su colaboración con Anderson tras haber estado en su Viaje a Darjeeling (2007), El fantástico Señor Fox (2009) y El Gran Hotel Budapest (2014).
"Me siento muy privilegiado de trabajar con Wes Anderson. Tener una verdadera amistad con alguien con quien puedes colaborar de manera creativa es un regalo. Somos como una familia y cultivar esa intimidad y confianza con alguien que te ayuda a elevarte de manera artística es una bendición", explica Brody.
El actor con rostro posmoderno, que tiene una caricatura de sí mismo en su cuenta de Instagram, también ha aprovechado el tiempo para componer música y escribir el proyecto Clean, usando su propio espacio entre paredes para crear arte, reinventarse y gestar historias que intenten darle sentido a las cosas, mientras el mundo toca notas de luces y sombras en este inicio del siglo.
CRÉDITOS:
Fotografías por: César Balcázar
Texto por: Mario P. Székely
Esquire México – Esquire Latinoamérica https://www.esquirelat.com/entrevistas/adrien-brody-the-french-dispatch-esquire/
Compartido por AdrienBrodyFansite
Source: Variety (August 04/2017)
Traducción al español aquí
---
Adrien Brody was feted Friday August 4, 2017 with a lifetime achievement award at the Locarno Film Festival, Europe's preeminent indie event, where he sat down with Variety and talked about why his 2003 Oscar for "The Pianist" didn't lead to as many big studio roles as could be expected. He also delved into his ties to China, where he is one of a handful of bankable Western stars; and was cagey about his upcoming roles in TV show "Peaky Blinders" and genre-bending picture "De Niro." Excerpts.
Of your early films the one that stands out for me is "Bread and Roses" by Ken Loach, who was celebrated here in Locarno last year. It's still timely, given that it's about exploited Mexican workers in L.A. Can you talk to me a little about working with Loach. How did it happen?
I don't recall the audition, but I do recall the nature of the way he works, which was: all the other participants were non-actors. Other than the two lead girls and one or two other people. The rest of them were janitors, some were union organisers; real people. Which was interesting. His approach was to have as many spontaneous things that could happen happen; and that would potentially change the screenplay. He would give us two-thirds of a scene, and I would not know the resolution. It was really interesting even as an exercise for me…Ken is such a genuine, generous soul. He's such a concerned, kind person. It's a great quality in a director.
Your career is being celebrated here in Locarno, which is a temple of indie cinema. Of course you've worked a lot in the indie world, and with some of the best directors. But you have also made studio pictures such as "King Kong" and "Predators." I wonder why you haven't worked more within the studio system. After all, you won an Oscar when you were 29. Is it because you haven't been offered the right roles?
No. It's because I carved out my own window. But partially you are right, there hasn't been the right role. If I had been offered the iconic leading-man roles that studios were making more of at the time; the roles that George Clooney would gravitate to, someone far more established…there still is a hierarchy, and there still are only a handful of really brilliant movies that have been made. I'm very appreciative of the honor that was bestowed to me winning an Academy Award, and being young. And it was very important to me to remain an actor — if that makes sense — and not become what everyone was projecting upon me… I felt that maybe the avalanche of what was coming my way — even with some of those high-caliber films that were coming my way — I wanted to stick to my m.o. which was: find the role that speaks to me first and foremost; filmmakers that are interesting, and don't be afraid of risky creative choices, because I view the process as something that should be far more artistically motivated. "Predators" is a great example: I didn't do "Predators" because I was dying to do a studio movie. It is a studio movie. But I did it because I thought: 'how interesting, how unpredictable, what a wonderful challenge it would be to step into the shoes of a Swartzenegger character; an iconic '80's overtly muscular action hero role, and do it with a sense of playfulness but also try and bring my own integrity to it.'
Similarly to Clooney you have your own production company, Fable House. But your company, set up in 2014, has financing from China, where as I understand it, they love you thanks to "Dragon Blade," which was a big hit in 2015, and before that "Back to 1942." Can you talk to me about your ties with the Chinese film industry?
My fascination with Chinese cinema starts with my dad. Back in the early '80's we would go to Canal Street and watch obscure crazy Kung Fu movies; great strange old films, which I bet influenced Tarantino. RZA from Wu Tang Clan was also inspired by them and created a whole subculture of hip hop infused with this culture. So I've always this connection.. I loved all those things as a teen-ager. I studied martial arts. China is a fascinating place. I think [in general] it [the relationship] is a little skewed and jaded now, because Hollywood is clamouring to be part of it and vice-versa. Obviously there are a lot of resources there. My timing was interesting because I was ahead of the curve. To be honest, being a business man doesn't appeal to me that much. All my motivation was just to create better opportunities for me. China has welcomed that…In the case of "Dragon Blade" I got to do this martial arts character. It's all heightened, but it was a lot of fun to play a pure villain with all types of insecurities. And Jackie Chan and his producing partners have been very supportive. But I've kind of pulled back on developing several projects that are close to the vest because it's cumbersome to do co-productions. Also, I'm painting very seriously which is a big part of my life and I actually went on hiatus and decided to not do business and not act unless something came along that really moved me. But I'm still passionate about some [Fable House] projects, it's still in the mix.
You've been doing TV lately: "Houdini"; a very well-received episode of Showtime's "Dice." And soon you will be playing Thomas Shelby's biggest threat in the new season of "Peaky Blinders." Can you reveal anything about your part in "Peaky Blinders," beyond the fact that you will be a big threat to the family? What kind of preparation did you do to immerse yourself in the role?
I'd rather not delve too much because the production is super secretive, but I love the show. The writing is fantastic, which is a big thrill to me. Steve Knight is very talented, the actors on board are great. All I can tell you is it's something fun to immerse myself in, and it's the kind of role I've longed to play.
Your next movie to hit the screens is titled "De Niro," described as a Reservoir Dogs-type thriller. Can you talk to me about that?
We've shot that. John Malkovich was wonderful to work with, Rory Culkin is in the film as well; very strong. It's little premature to talk about, but what attracted me most is it's a great young writer/director named Paul Solet ["Grace"] and it's the kind of movie I'd like to go see. It blurs several genres: it's got a thriller aspect to it; it's got a contained dramatic element to it; and it has a degree of action. I love the fact that there is a dog, who is a central character, who is named De Niro. I love animals. There is kind of a parallel made about abused animals, or neglected animals, and also people, in society….Even though it's a pretty commercial film on the surface, it has this undercurrent that I relate to. That's what was appealing to me about that film, and of course working with John, an actor I've always admired. We had a good time…I think Rory is going to be really special in the film, and the dog was wonderful.
---
Credits: Variety
Credits: —Alexander Forbes from artsy.net
In 2002, Adrien Brody became the youngest person ever to win an Academy Award for Best Actor, at age 29. He's a household name for that role, as Polish pianist and composer Wladyslaw Szpilman, in Roman Polanski's The Pianist. And he has since gone on to star in films such as Wes Anderson's The Darjeeling Limited (2007) and The Grand Budapest Hotel (2014), Peter Jackson's remake of King Kong (2005), and Woody Allen's Midnight in Paris (2011). But two years ago, Brody decided it was time to devote himself to a passion he had long neglected: painting.
It happened by chance. A friend of Brody's, a French artist, had promised to paint him a piece. After four years, and a period spent out of touch, they finally settled on a time for the work to be completed.
"I built him a large canvas, measured it for the wall," recalls Brody.

"And I bought some additional canvases in case he wanted to do some additional work and play around. I thought I might help him. And so while he was painting, I started painting some stuff too." Brody's friend was adamant that the actor had to continue.
On November, we're sitting in Shanghai at ART021 art fair as Brody recounts this return to a dormant creativity he had often thought about picking back up but never got around to independently.
"Painting was something that I loved and dreamt of coming back to one day but never did. I think a lot of people have that: maybe they were talented at guitar or they used to sing or they used to draw," says the 43-year-old actor, glancing at the works he was presenting at the fair in a collaboration with the nonprofit organization Teach for China.
Brody had donated one of the pieces—a lacquered painting of a fish, covered in drips of paint à la Pollock—to the charity, which sends Chinese and American graduates to teach in schools in rural China. This week, similar work is featured as part of David Benrimon's booth at Art Miami, as part of Miami Art Week.
Painting was something that Brody initially attempted to pursue professionally.
"I had applied to art school and was rejected," he recounts. Like so many people who neglect or abandon creative passions, the young Brody was impacted by being turned away.

"It's discouraging in a way when the establishment or teachers criticize your work or dismiss your abilities. Inevitably you take it personally, especially in your adolescence. You're at a young age where you are dreaming but you're naturally insecure. Your ideas and your sense of self, none of those are there."
The actor's spontaneous painting session came at a particularly opportune time.
"I had been working a lot as an actor and producer, and had just been really immersed in all that," he says.

But rewarding as this work was, it left him with another urge: "I was bursting with desire to express myself independently. Painting lets me do that without the burden of having a screenwriter, a conversation about a script to make it suit me a bit more, finding a filmmaker that elevates me, and having an editor, and the producers, and the marketing team change the work that I go into doing and then it becoming something else, yet with my name on it. This is my doing."
Much like when he famously lost 30 pounds and cut ties with his personal life in preparation for his role as a Polish-Jewish musician fleeing the Nazis in The Pianist, Brody has leapt into his artistic career with gusto. And he has been prolific. In Shanghai, the fish we're sitting amidst reflect the degradation of our ecosystem and the way in which our fast-paced, technology-consumed lives have led us to neglect our inner spiritual consciousness. In previous bodies of work, Brody has created installations out of stuffed animals dressed up like gangbangers to comment on the how the degradation of the nuclear family in urban contexts has contributed to a perpetual cycle of violence and he's painted burgers and hot dogs in a nod to the ways fast food culture reflects a more overarching shortsightedness when it comes to quality of life, health, and the environment. Ultimately, his work is about self-fulfillment more than it is public acclaim.
"Whether someone appreciates it or not, it's fine, it's subjective. But it's coming from me. And it's wonderful. The process in and of itself is so exciting and fun."
Brody credits his artistic adventurousness to his parents.
"I come from a family of artists," he says. "My mother [Sylvia Plachy] is a photographer and on an artistic and a spiritual level she's really a guiding light for me. And my father is a very talented painter." Brody's father took up painting in earnest after retiring from his job as a public school teacher.
The actor recalls his dad retreating to the attic of their Queens home to spend time with his easel and oils.
"My dedication to a lifetime of pursuing creative output is something that came from my parents. They nurtured me and approved of me doing something that was never going to be easy. They've given me the courage to take risks creatively and pursue something without there being a goal of success."
The intention Brody brings to his work is unimpeachable—especially the way in which he's marshalled it to raise significant funds for charities. "I should exceed a million dollars in donations this past year," says Brody.
"That's not something I could have done had I not taken this on." Aside from his contributions to Teach for China, he's helped benefit environmental initiatives, AIDs research, and other youth organizations, working with fellow actor and art collector Leonardo DiCaprio this summer for DiCaprio's annual auction in St. Tropez. "I'm thrilled. You know, all of it is part of the bigger picture," he says.
That's not to say that putting acting somewhat to the side in order to pursue his art work hasn't come without sacrifice.
"I obviously put down a lot of earning potential for two years to work on what I do creatively and to pursue a greater understanding of myself and a commitment to guiding myself," he says.
But Brody also notes that the emotional openness and deeper inner consciousness that both acting and painting create each fertilize the other. Acting, says Brody, will always come first for him.
"I am an actor and I'm destined to be an actor. I was already an actor when I was rejected from art school."
But with painting, he's revived a dream once put on hold—and set a powerful example for others who may similarly be harboring unfulfilled creative passions.
Credits: By Ángel Elías. May 12, 2016 on: prensalibre.com
Translation by: Adrien Brody Fansite.
The actor and painter Adrien Brody visit Guatemala to donate his artwork to the G & T Continental Foundation, to benefit the National History Museum.
"For me it is important to work and I am grateful to the hospitality of the people in Guatemala. I was impressed with what exists in Guatemala, "Brody said during his speech at the ceremony of the works. Thursday May 12, 2016 at the Gallery El Centro, Zone 1 capital.
"I am delighted the country, mainly in Antigua Guatemala. It'm happy to share and to have the opportunity to work with my art to the museum project, "he added.
In the evening, fellow Spanish artist based in New York, Domingo Zapata, donated works inspired by the Mayan culture. "It is something mystical, the colors of the culture of this country is something that catches. I am very happy to be in such an important place and share with their people, "Zapata said.
"For us it is a real honor to receive tonight the artists Domingo Zapata and Adrien Brody, who make the great honor of being the first to perform an external donation in support of the National History Museum project: Restoration, conservation and Encounter with Our Identity "said Eduardo Cuestas, president of the G & T Continental Foundation.
Adrien Brody is an actor, producer and painter/artist, winner of the Oscar Award for best actor for his performance in the film The Pianist, in 2002. Thus became the youngest player in obtaining this recognition until then, in that category. The sale of works of Adrien Brody will benefit the National History Museum.