interview
Adrien Brody could have been a magician, and now he's rediscovering his passion for painting. But with a dizzying array of major roles and a new Wes Anderson film coming out, the Oscar-winner explains why this is very much 'a special time'.
Roughly a year after Adrien Brody became the youngest recipient of the Academy Award for Best Actor in a Leading Role, he sat for an interview and a "glammed-up" photo shoot for the August 2004 issue of Details magazine, the now-defunct men's publication. The cover shows Brody wearing a white T-shirt, "the perfect all-American look", leaning backwards with both hands behind his head and meeting the camera with a gaze both remote and charged. Also on the cover, in all caps: "ADRIEN BRODY LOVES BEING FAMOUS." Brody never said he loved being famous. It was not something he'd ever expressed. Not only was the coverline incongruous to who he was, but as an actor who'd only recently climbed into the industry's highest level of visibility, he was still digesting the ways his life would change as a public figure. "I was so shocked by it," he says now, over breakfast at the Whitby Hotel in New York. "It was so flippant. It just…" He hesitates, as if debating whether to complete the thought, because he is otherwise unfailingly polite. "It made me look like a dick."
Brody is once again sitting for a cover story. He's come straight from Good Morning America, the popular breakfast TV show, and is still wearing "make-believe clothes" lent by a stylist: a white button-up and a smart black over-shirt. His appearance this morning had gone well: "Quick and painless. It was literally two minutes. I mean, it's a whole to-do, and then you're on, thinking 'I hope I don't blow it!' And they're, like, 'Good morning!' And I'm, like, 'Hello!' And then they're like, 'Goodbye', and then I'm like, 'I love you, thank you!'" Because the show had run smoothly, his publicist had texted me to say he'd be early for our appointment. I arrived early, too, and through the hotel window I could see him pacing the pavement in a leisurely manner with a phone pressed to his ear, enjoying a conversation. He was talking to his father. When he breezed in minutes later – 6ft tall, a spring in his step – he smiled in an avuncular sort of way, and told his dad he had to go, that he was headed into a meeting, and that he loved him.
Brody and I are here to discuss his latest film, The French Dispatch, which follows a group of expatriate journalists and the colourful subjects of their features and profiles. I tell him it must be difficult to sit for an interview without knowing how a reporter will paint you. "I believe that you're listening, and you don't have your point of view to pitch, and I really appreciate that," he says, with a shrug. After close to three decades in the film industry, he accepts that speaking to the press is part of his job. Even so, it can be frustrating to "genuinely give your time and try to share, and then it somehow becomes contorted. It's not that it's been edited. It becomes shifted and filtered through all kinds of different points of view. And then, depicted as you. A rendition of you."
In The French Dispatch, Brody's character, an art dealer named Julian Cadazio, is the one doing the shifting and filtering. After discovering a transcendent abstract painting by twice-convicted murderer Moses Rosenthaler at a high-security prison's arts-and-crafts showcase, Cadazio vows to transform the convict into an international art star, even though he is in prison himself, for tax evasion. Cadazio demands to buy the painting and asks the artist to share his life story: "Where did you learn? Who did you murder?" He wants the gory details so he can commission a biography, generate hype and boost his own profile. There's only one problem: Rosenthaler doesn't care about any of that. He just wants to continue painting his muse, Simone – who also happens to be the warden.
The French Dispatch, which is directed by Wes Anderson, is structured like a magazine issue, with six sections united by the fictional magazine's journalists, who narrate each of the short films. Brody's storyline, titled The Concrete Masterpiece, functions as a parable about the commodification of art and artists. "Adrien's character says – and I'm paraphrasing – that the whole point of an artist making art is to show it," Benicio del Toro , who plays Rosenthaler, told me. Brody and del Toro discussed that matter at length. "It's the same for film people," del Toro continued. "Being an actor in movies is very similar. There's no movie without an audience. There's no artwork without an audience."
Brody was born in 1973 in Woodhaven, Queens, to the longtime Village Voice photographer Sylvia Plachy, whose photographs were acquired by the Museum of Modern Art when she was in her 20s, and Elliot Brody, a professor and self-taught painter. Even as a boy, the young Brody loved to act. "I would often reenact things I saw that were interesting to me…" he says, "specific mannerisms, or retellings of conversations and experiences that struck me as unique." For a while, he performed magic tricks at friends' birthday parties, using the moniker the Amazing Adrien. When his mother learned about the American Academy of Dramatic Arts, through a photography project, she encouraged him to enrol in acting classes. At 12, he started performing in theatre productions around New York; a year later, he played the lead character in Home at Last, a historical film for public television about a city-dwelling orphan who gets adopted by a family in Nebraska.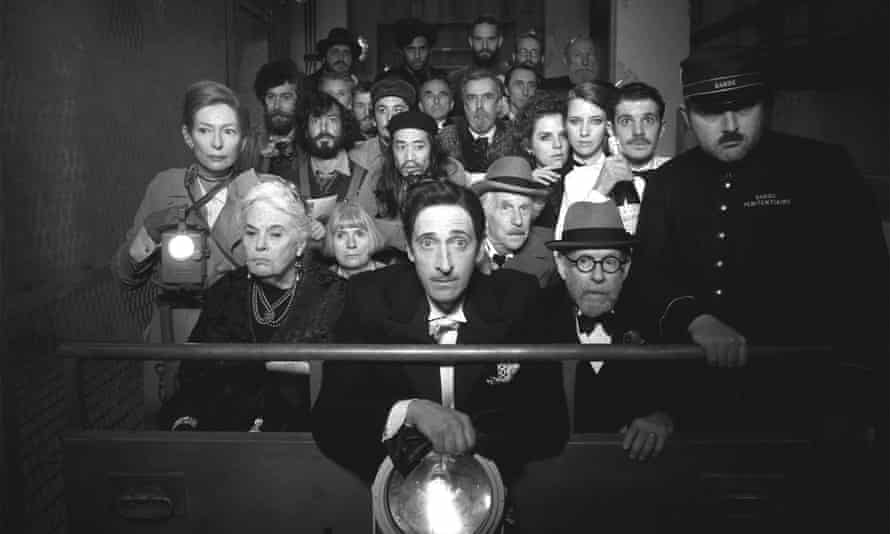 As a child, Brody was also a prolific painter. He applied to study fine art at Fiorello H LaGuardia High School, which is best known as the performing arts high school in Fame. He was rejected. But in a fortuitous plot twist, he was accepted by the drama department. So while some of his friends became active in the street art movement of the 1990s, Brody was busy acting in films like Francis Ford Coppola's New York Stories and Steven Soderbergh's King of the Hill. He received rave reviews for his breakout role in Spike Lee's Summer of Sam, in which he played a punk outcast. And then he landed the lead in Roman Polanski's The Pianist, which would earn him the Oscar.
Throughout the 2000s, Brody became one of the most in-demand actors on the planet. He appeared in M Night Shyamalan's The Village, Peter Jackson's blockbuster King Kong remake, and The Darjeeling Limited, his first Wes Anderson film. "I tried to respond to material without the same point of view I had before," he remembers, "which was to take risks, to explore interesting, different characters and genres."
But roughly a decade ago, he became frustrated by the fact that no matter how much work he put into a film, it would never fully match his vision for it. As an actor, he realised, he could only ever be one part of a director's idea – a cog in the machine – and that his performance would be "enhanced or diminished by the collective work of the people around you". Brody became downhearted by Hollywood, which necessitated him accepting parts in big-budget films he found less valuable. "If you do really interesting independent movies that don't open, then you don't have a lot of value, in the business sense," he says. "With regards to your cachet and your ability to find yourself in meaningful roles in bigger movies that require a bigger investment, those are exclusive to those who are bringing in bigger numbers. And the only way to bring in bigger numbers is, you have to do a certain type of film."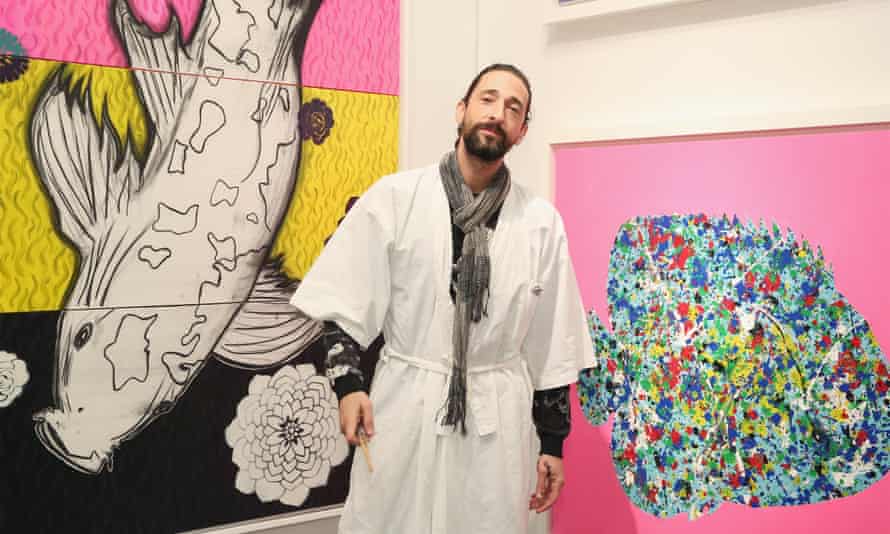 Eight years ago, the French artist Georges Moquay visited Brody's house in upstate New York to work on some paintings. The pair had hit it off at Art Basel, where Moquay had shown his work years earlier. There was some leftover canvas laying around, so Moquay suggested Brody pick up a paintbrush and make something with it.
"I did," Brody remembers, "and he freaked out on it. He was like, 'Why aren't you painting?' I said, 'I don't know!'"
Brody realised painting could fully belong to him in a way acting couldn't; it could be his medium for constructing tiny, private worlds. "I felt such creative freedom," he says – in some ways, more creative freedom than he'd felt in Hollywood. Since then, he has rented studio space wherever his films are in production, and is now in the process of building "a massive studio in the countryside". Lately, he's been doing a lot of collages, partially inspired by the layers of paper and paint he would notice on the walls of New York as a kid. "There'd be something scratched off and written, partially legible, and some old advertisement that was torn away, and I would just love that."
During the pandemic, Brody's art practice served him well. While shooting See How They Run, a midcentury, London-set whodunit co-starring Sam Rockwell, Saorise Ronan and David Oyelowo, Brody stayed home and painted when he wasn't on set during lockdown. "I'll be broken from painting on the floor for a week straight, like, it's hard to get out of bed. It's crazy how immersive it is, at times." He shows me a few studio photos on his phone, and I realise he's not exaggerating; Brody paints 16ft canvases on the floor, like Jackson Pollock minus the splatters. It really does look like a workout.
"They say actors really are attention-seekers, but I'm very introverted," he explains.
In 2016, Brody stopped looking for work altogether. "I had some previous work that was still coming out, but I passed on most acting projects for several years," he says. But recently something has shifted. We talk about the dizzying six projects he has shot over the past two years: The French Dispatch, Succession, the Stephen King adaptation Chapelwaite, the Netflix Marilyn Monroe biopic Blonde (in which he plays an Arthur Miller-like character), See How They Run, and the as-yet-untitled Adam McKay HBO series about 1980s era LA Lakers, where Brody stars as legendary coach Pat Riley.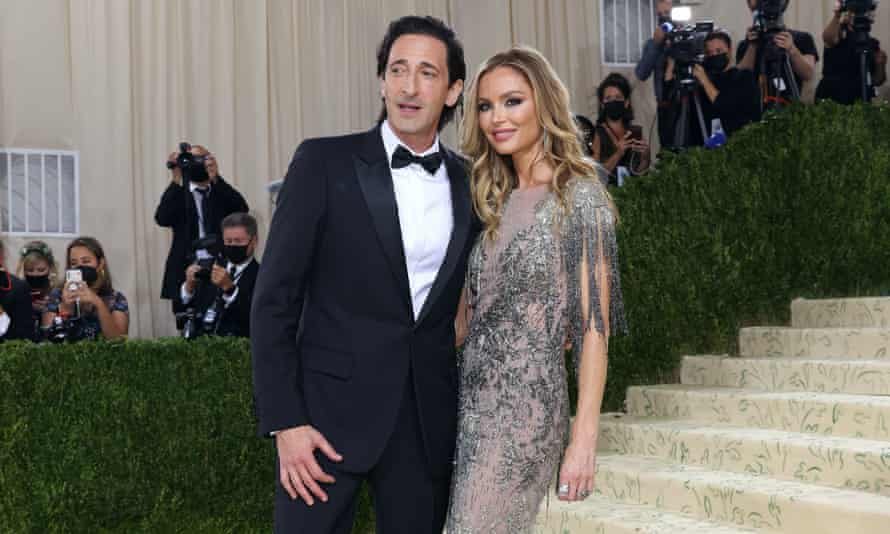 "I feel like there's more, actually," he says, sprinkling hot sauce on some scrambled eggs. There's Clean, the Tribeca film he scored, starred in, and co-wrote, plus a script he's currently writing, which began as a feverish brainstorm in the halls of the Prado Museum, in Madrid. He seems to have more creative energy now than ever. "It's a special time," he says, with a twinkle in his eye. "I can't really put my finger on what it is. Maybe it's something within me, I've welcomed more in." He expresses gratitude that "interesting filmmakers" are approaching him with "well-written characters."
The French Dispatch marks Brody's fourth collaboration with Anderson. (He recently signed up for a fifth, Asteroid City, which will be set in Spain.) Anderson sets are "unique environments" that extend beyond the film itself, Brody says. "Everyone comes home to the same hotel and we all have dinner together every night." He makes the production sound like a roving summer festival, or a close-knit theatre troupe. (Del Toro, "the new kid," says Brody was "very welcoming and generous, and he quickly made me feel like I was a part of the troupe. I'm very grateful for that.")
"So often, when you're away and you're on location, everybody has their own lives, they're all busily dealing with their own thing. It's far less of a community than it could be," Brody says. "Wes creates this sense of everyone joining the conversation." He became hooked on the approach after their first movie together, The Darjeeling Limited, which co-starred Owen Wilson and Jason Schwartzman and was shot almost entirely on a hired train in India. "It was like a group of brothers – we were experiencing all these things as we were doing them."
There is precise choreography to an Anderson scene, he explains, because a "rigorous" level of detail is required to hit each beat. "He hears the music," Brody says of Anderson. As an actor, "you have to be able to hear that music and catch it." Especially during a scene like the grand finale of his French Dispatch storyline, a long tracking shot where the cast fires off lines like dominoes, "you really don't want to be the weak link" who flubs the line, he says, forcing the entire scene to reset. "You have such a responsibility to lift everyone else up."
We pay the bill and leave the restaurant. He's meeting his girlfriend of two years, Georgina Chapman, the Marchesa designer and ex-wife of Harvey Weinstein. (The pair confirmed their relationship earlier this year on the red carpet of the Tribeca Film Festival, and have since made appearances at Cannes and the Met Gala.) After lunch, he plans to visit his parents in Queens before boarding a flight to Los Angeles to resume shooting Adam McKay's HBO show.
There are two cars waiting for him outside the hotel: a black Mercedes with a driver and a compact black sedan driven by Chapman. He's getting into the car with Chapman, so he offers to let his driver take me to my next appointment downtown.
Though he's been a fixture in American cinema for years, Brody still seems like a puzzle to many fans, which isn't a bad thing in an era defined by its online self-mythologising. "I feel like it's difficult for people to separate who you are from who they think you are, and the characters that you played. Now they just Google who you are, and get whatever someone else has thought or said about you," he'd told me earlier. "If you look at my work, it's very hard to say, 'This is the kind of actor that he is.' 'This is the kind of person that I am.'"
And you feel that's the way he likes it.
The French Dispatch is out now
Stylist Christian Stroble; stylist's assistant Makaela Mendez; digital Maria Noble; lighting Kendall Connorpack, Sebastian Keefe and Tobey Lee; grooming Natalia Burschi using for hair R+Co, and Makeup, Tom Ford.
---
Source: https://www.theguardian.com/global/2021/oct/24/adrien-brody-interview-actors-are-attention-seekers-but-i-am-an-introvert
Casi 20 años después de ganar un Oscar y reclamar su título como uno de los actores más serios de su generación, Adrien Brody ha hallado una nueva motivación.
Adrien Brody llega pertrechado con fruta. Nos citamos en el parking de una popular ruta de senderismo de Los Ángeles, y rápidamente me entrega los snacks que ha preparado: un recipiente de plástico lleno de cerezas y sandía, junto con un par de botellas de agua, zumo de naranja recién exprimido y dos panes tostados con mantequilla envueltos en una servilleta. Es un tipo encantador, sin duda, pero también un actor al que le gusta hacer un profundo trabajo de preparación, sin importar el papel. Comemos sentados en un banco. Aún no son las nueve de la mañana. Las cerezas están riquísimas.
Brody tiene 48 años y lleva 30 actuando profesionalmente. En este tiempo, se ha hecho conocido por la intensidad con la que afronta su compromiso con el trabajo: perder peso, ganar músculo, gatear por el bosque… "Hago lo que sea necesario por un papel", dice, "y todos en mi vida lo entienden y lo respetan". Como todos los actores, ha tenido altibajos, pero tal vez debido a esa intensidad, los altos de Brody han sido más altos, y sus bajos, tal vez más bajos, en comparación con muchos de los intérpretes que consideramos sus compañeros y a quienes llama amigos. Sigue siendo el hombre más joven en ganar el Oscar a mejor actor en la historia de los premios de la Academia. Y también decidió, no hace mucho, pasar unos años haciendo cualquier cosa menos actuar.
Este otoño será un periodo inusualmente prolífico para el actor. Está en la tercera temporada de Succession, en la que interpreta a un inversor activista que se enfrenta a la familia Roy. Después viene The French Dispatch, su cuarta película con el director Wes Anderson (la quinta ya está en camino). Y en algún momento del próximo año lo veremos dando vida a dos figuras legendarias: el dramaturgo Arthur Miller, en Blonde –la película de Netflix sobre la esposa de Miller, Marilyn Monroe–; y el entrenador de baloncesto Pat Riley, en la serie de HBO de Adam McKay sobre la era del "Showtime" de Los Angeles Lakers en la década de los 80. Muy consciente del componente azaroso que rige la carrera de un actor, está emocionado de que haya tantas cosas sucediendo a la vez. "He hecho muchas cosas divertidas, pero ahora estamos en un buen momento", dice.
Brody siempre ha aplicado su método del máximo esfuerzo a todo, sin importar la calidad del material. De hecho, no han sido pocas las veces que su trabajo ha sido lo único salvable de ciertas películas. Ahora, sin embargo, tiene una serie de papeles en proyectos del más alto nivel que finalmente parecen estar debidamente calibrados a sus habilidades, y eso podría mostrarle al público un Adrien Brody diferente.
La serie de los Lakers todavía está en producción el día que nos encontramos. Mientras comenzamos nuestra caminata, Brody –con botas de montaña, una gorra de los Yankees y gafas de aviador oscuras– explica que algo un poco extraño está sucediendo con el papel de Riley.3 Brody no sabía mucho sobre el entrenador antes de prepararse para el personaje, pero rápidamente se enteró de que la historia de Riley era más compleja de lo que pensaba. Antes de que Riley se convirtiera en un entrenador reconocido en el Salón de la Fama, había sido una estrella de baloncesto universitaria y luego jugador suplente en un equipo de los Lakers que ganó el título. Después de una carrera profesional de nueve años, Riley se retiró a los 30 y, como dice Brody, "se encontró en Los Ángeles tratando de averiguar cuál era su lugar dentro del mundo del deporte y sin ser capaz de aceptar la jubilación anticipada". Riley terminó a cargo del que se convertiría en el equipo insignia de la década de los 80, pero sólo después de que el entonces entrenador de los Lakers sufriera un terrible accidente de bicicleta y de que el entrenador asistente que lo reemplazó fuera despedido. "La desgracia de un hombre creó una oportunidad para otro", explica Brody. McKay, el director, y Max Borenstein, el escritor de la serie, necesitaban un actor que pudiera reflejar la dualidad de espíritu del entrenador. Brody parecía perfecto, "porque es una mezcla única de elegante confianza y vulnerabilidad", me dice McKay en un correo electrónico. "Y ésa es una descripción perfecta de Riley. Aunque, obviamente, Riley no muestra la vulnerabilidad ni se siente tan cómodo con ella como Adrien. Pero puedes ver claramente que está ahí".
Ése es el Riley en el que ha estado pensando: no el icono fanfarrón y con traje Armani, sino un joven preocupado porque sus mejores años han quedado atrás, desconcertado por las circunstancias que le han llevado a ocupar su posición en la vida.
Es gracioso, dice Brody, lo mucho que la historia de Riley se parece a la suya. Vivir con ese espejo delante durante estos últimos meses le ha hecho pensar en la extraña tormenta que se desató sobre su vida y su carrera después de ganar el Oscar, en 2003, por su trabajo en El pianista. En aquel entonces, Brody tuvo que luchar con el mismo tipo de contradicción que enfrentó Riley cuando le entregaron las riendas de los Lakers: estaba aparentemente en la cima del mundo y, sin embargo, se sentía incapaz de controlar la trayectoria de una carrera que había alcanzado el punto más alto demasiado temprano. En el caso de Brody, la avalancha de fama y trabajo que siguió a la película le proporcionó una cierta seguridad, pero la experiencia también lo dejó deprimido y con un trastorno alimentario, y reordenó permanentemente las expectativas, tanto de la industria como suyas, sobre la dirección de su carrera y el significado del éxito.
Mientras explica todo esto, deteniéndose en divagaciones sinuosas sobre la naturaleza de la suerte y los caprichos de la producción cinematográfica independiente, un excursionista con la piel bronceada y un marcado acento neoyorquino nos detiene en medio del camino. Reconoce al actor y se presenta como Jack. Nos cuenta que conocía a Gerald Gordon, un profesor de interpretación con el que Brody dio algunas clases cuando se mudó por primera vez a Los Ángeles. Jack explica que Gordon le había dejado instrucciones de enviar sus mejores deseos a Adrien Brody en caso de que un día se lo encontrara. Lo que sonaría al delirio de un loco si no fuera porque es exactamente lo que acaba de suceder. Jack parece tan confundido como nosotros. Brody ofrece su agradecimiento y termina elegantemente la conversación.
Quizás gracias al entrenamiento de Brody como actor, o quizás sólo a su sensibilidad congénita, eventos monótonos como éstos –una caminata, una charla con un amigo de un viejo maestro, una discusión sobre en qué está trabajando estos días– parecen imbuidos de una gravedad especial cuando él los toca. A lo largo de nuestro tiempo juntos, aprendí que las metáforas tienden a seguirlo, algunos días como una camada de cachorros, otros como una colonia de avispas enojadas.
Durante toda su carrera ha puesto cada gramo de sí mismo en los papeles que ha interpretado. Pero ahora mismo, con el trabajo de Riley y todo lo que le rodea, parece listo para aprender de nuevo. Abundan las lecciones útiles, si uno está dispuesto a escuchar. "Solo estoy tratando de vivir abiertamente y sin miedo", me dirá más tarde.
Al subir una colina, Brody acelera el paso. Se voltea hacia mí. Llevamos caminando unos 15 minutos. "Así que, de todos modos", dice, "así es cómo, si tienes suerte, acabas abriendo nuevos capítulos en tu vida".
Brody se tiró todo el verano grabando la serie de los Lakers en varios lugares de Los Ángeles. Todas las mañanas doblaba su cuerpo larguirucho para meterse en su Fiat con cristales tintados, trucado, con palanca de cambios, y lo conducía desde su casa en The Hills hasta el lugar donde se rodara ese día. Rápidamente llegó a amar el trayecto, o tal vez menos el trayecto específico que la pequeña alegría de tener finalmente uno que hacer. Gran parte de su trabajo como actor se ha desarrollado en localizaciones menos cómodas. Hace mucho tiempo se dio cuenta de que su amigo Owen Wilson, de alguna manera, se las arreglaba siempre para terminar actuando en películas que se rodaban en su misma ciudad. Brody no tenía tanta suerte. "Si Owen vivía en Santa Mónica, hacía una película en Santa Mónica", dice. "Yo ya podía estar rodando en Bulgaria en invierno que a Owen le tocaría bajar a Santa Mónica, a cinco manzanas de su casa, y probablemente hasta podría irse a casa a comer. Es algo asombroso", asegura, tener un trabajo al que puedes ir en coche.
Es cierto que, si tuvieras que hacer una película ambientada en Santa Mónica, probablemente no elegirías a Adrien Brody. Sin embargo, si tuvieras que hacer una película que necesitara un rostro de Europa del este distorsionado por el sufrimiento, o si requirieras el tipo de actor que podría considerar una producción independiente de bajo presupuesto en los Balcanes como una especie de aventura gloriosa, Brody sería tu mejor opción.
Parte de esto es anatomía simple. Tiene la nariz recta y respingona, los ojos verdes amplios y hundidos, y un par de cejas arqueadas en permanente expectación. Parece irónico pero también un poco triste. Su voz, ronca, nasal, salpicada de sabiduría, parece atemporal. Wes Anderson aprecia esta cualidad. "Una cosa rara de Adrien es que, si tuviera que trabajar repentinamente alrededor de 1935, en lugar de en 2021, podría hacerlo", me dice en una nota de voz narrada de manera divertida, compuesta en respuesta a mis preguntas.
Brody lo acepta todo honestamente. Su madre, la fotógrafa Sylvia Plachy, se fue de Budapest a Viena cuando era adolescente, en la época de la Revolución Húngara, y finalmente llegó con su familia a Nueva York, donde más tarde comenzaría a filmar para Village Voice. La vida y el trabajo de su madre le di ron la capacidad de "ver la complejidad que la mayoría de las personas se pier- den, en todas partes, a su alrededor, y poder captarla; e inmortalizarla. He visto el mundo a través de esa lente", dice. Era un niño sensible al que le molestaba serlo, hasta que se dio cuenta de que esa cualidad también podía ser un regalo. Actuar le abrió una nueva forma de relacionarse con el mundo, dice: "Afortunadamente, había estas escapatorias: seres humanos maravillosamente complejos en los que me podía convertir, con los que podía relacionarme de una forma u otra. Y purgarme, supongo, o participar en el sufrimiento de otro ser humano, y no sentirme solo en el mío. Y luego comprender la universalidad de todo nuestro sufrimiento y alegría, pero abrazar los momentos de alegría y honrar el vasto sufrimiento que, lamentablemente, es la capa subyacente generalizada".
Mamá regresó de un encargo para filmar en la Academia Estadounidense de Artes Dramáticas con la sensación de que a su hijo único, mago amateur y artista natural, le gustaría estudiar interpretación formalmente. En poco tiempo, estaba asistiendo a cuatro clases al día en LaGuardia High School y preparando un papel para Francis Ford Coppola en New York Stories.
Ese trabajo de un día le brindó lecciones que perduraron. El guion decía que un par de chicas tenían que mostrar una fuerte aversión a la horrible colonia que usaba el personaje del adolescente Brody, así que el director lo roció de arriba a abajo. "Coppola decidió usar la técnica del Método y me echó una botella de colonia asquerosa encima, para que las chicas tuvieran algo a lo que reaccionar", recuerda Brody.
A los 19 años, Steven Soderbergh lo dirigió en su película sobre la era de la Gran Depresión, El rey de la colina. Anderson recuerda que la vio con Owen Wilson y que la actuación de Brody lo cautivó al instante. "Era una de esos trances en los que puedes sentir de inmediato que estás delante de una estrella de cine", asegura. "De algún modo, él se sobrepone a todo con una sonrisa, y parece tan relajado… Simplemente te atrapa, instantáneamente ".
Por un tiempo, el estrellato pareció serle esquivo. Obtuvo un papel importante en La delgada línea roja, pero sólo para enterarse después de que el director Terrence Malick lo había excluido de casi toda la película; y realizó algunas escenas en Summer of Sam de Spike Lee como un punk libertino de Nueva York. Brody siguió intentándolo.
Mientras hablamos, el sendero se termina y acabamos fuera del cañón, en una calle tranquila –un frondoso callejón sin salida rodeado de grandes casas–. Más adelante está el camino que nos conducirá suavemente colina abajo, hasta el lugar donde dejamos nuestros coches. Pero Brody tiene una idea diferente. "Conozco otra salida", dice, y añade una pequeña advertencia. "Pero es una locura". Efectivamente, localiza un nuevo rastro. Es un camino estrecho y empinado de una sola pista que en ese momento hierve al calor del mediodía. Lo tomamos.
Es el don de Adrien Brody, pero quizás más a menudo su maldición: que vive para los papeles difíciles. Y no sólo los difíciles, sino también los que lo golpean físicamente, los que ponen a prueba su cordura. "Siempre me digo: '¿Por qué elegí esto? ¿Por qué quiero hacer esto? Estoy muy dispuesto a hacer casi cualquier cosa por un personaje. He comido gusanos. He comido hormigas. He saltado de helicópteros. Y solo después dices: 'Guau, eso fue realmente estúpido. ¿Por qué hice eso?".
La respuesta es siempre la misma: "Porque no quieres tener miedo. Esa sensación te nubla el juicio y acabas aceptando".
Tenía 27 años cuando Roman Polanski le dio la oportunidad de poner a prueba sus principios sobre la actuación y el sufrimiento. En El pianista, una historia real de resistencia y devastación, interpretó al personaje principal, Wadysaw Szpilman, un músico judío que sobrevivió a la ocupación nazi de Varsovia. Para prepararse, Brody transformó su vida. Vendió su coche y desconectó sus teléfonos. Abandonó su apartamento y guardó sus cosas en un trastero. Pasó días enteros en habitaciones de hotel en Alemania y Polonia, practicando el piano.
"Fue una enorme responsabilidad y me cambió", dice. Físicamente, el rodaje fue una pesadilla. Al terminar la producción, estuvo deprimido un año. Le desagradaba su cuerpo, devastado por una dieta de choque que bajó su peso hasta los 60 kilos. Todo el asunto le dejó con una tristeza que aún perdura. "Pero no tenía idea de lo que vendría", dice. "No tenía ni idea." 
"Aspiré por más, y me pareció que mi teoría de contribuir y verter mi sangre, sudor y lágrimas en un proyecto no dio los resultados".
Por supuesto, El pianista fue recibida con entusiasmo, en especial por la inquietante interpretación de Brody. Fue nominado para un premio de la Academia y, en apariencia, fue admitido en ese reino reservado para los mejores actores, o los más comprometidos, o los más locos. Se instaló en la imaginación del público como quizás el próximo Robert De Niro o el próximo Daniel Day-Lewis, el protagonista desquiciado, no canónicamente guapo pero obviamente sexy, que será la primera opción de cualquier director para todas las películas dramáticas por el resto de su vida.
La semana de los Oscar, Brody recibió una llamada de Jack Nicholson; ambos estaban nominados a mejor actor, junto a Day-Lewis, Michael Caine y Nicolas Cage. Estados Unidos acababa de enviar tropas a Irak, y Jack convocó a los nominados en su casa para coordinar una respuesta. Fue un shock. La primera vez que hablaron, asegura Brody, le llamó Brophy. "Y ahora Jack va y me invita a su casa. Y estoy ahí con Michael Caine y con Nicolas Cage, y ellos están bebiendo whisky y fumando puros y estamos sentados en un pequeño círculo". Todos menos Brody ya habían ganado un Oscar. Nicholson sugirió que no asistieran al espectáculo, en protesta por la guerra. Brody dijo: "Oíd, no sé vosotros, chicos, pero yo sí voy a ir. Aunque estoy de acuerdo con vosotros: creo que quien suba al escenario tiene la responsabilidad de hablar de lo que está sucediendo". Simplemente no pensó que fuera a ser él.
Pero fue él. Brody no esperaba ganar: la mañana del espectáculo, recuerda estar sentado en la acera de Beverly Boulevard frente a un restaurante en Hollywood, abrumado por la enormidad de todo, mientras sus padres, que estaban de visita, esperaban a que se recuperara. Pero la victoria tampoco fue una tontería. Había puesto todo lo que tenía en el papel, y la experiencia pareció solidificar su convicción de que, con suficiente esfuerzo, podría encarnar y retratar los extremos más crudos de la experiencia humana. Era una locura pensar que podía estar cerca de comprender el sufrimiento de un superviviente del Holocausto como Szpilman, pero había una especie de euforia en el esfuerzo de intentarlo. "Fue la cosa más dura que he experimentado en mi vida. Después, cada vez que me he revolcado en mi propio sufrimiento, he tenido esa perspectiva", dice. Aprendió una lección simple e indeleble: el arte con mayúsculas es doloroso. Por eso es también prácticamente el único tipo de arte que vale la pena intentar.
Su secreto, si se puede llamar así, era que no siempre actuaba. "He trabajado con actores que son brillantes y no parecen falsos, pero apenas saben actuar. Saben crear", dice. "Es un truco de magia maravilloso. Saben actuar como si te quisieran, y realmente no es así. Y a mí me cuesta trabajo". En una escena de El pianista, tenía que trepar por una pared, lesionarse el tobillo mientras aterrizaba del otro lado e irse cojeando. Así que se metió una piedra afilada en el zapato. Dolía al aterrizar y luego al caminar también. "¿Para qué molestarse en fingir una cojera?", pregunta ahora. "Sólo duele durante un minuto. Simplemente hazlo".
Incluso ahora, que se está metiendo en la piel de una serie de iconos viriles de la masculinidad estadounidense, como Riley en Succession –al que Brody llama su "tiburón"– o el esposo de Marilyn Monroe, esta forma de pensar es útil. "No hay arrogancia sin sufrimiento", dice. "De hecho, la chulería de la mayoría de la gente suele ser el resultado de mucho sufrimiento". La arrogancia, razona, puede ser en sí misma una especie de cojera.
Es posible que el público sólo capte los más pequeños destellos de esto: la armadura de dolor que Brody construye debajo de la superficie de cada personaje. Pero sabe que está ahí. "Eso es esencial, al menos para mi proceso", dice. "No siempre necesito una piedra. Pero a menudo tengo una piedra". Una piedra real, aclara, puede ser útil para transmitir todo tipo de emociones, incluso si su personaje no tiene problemas en los pies.
"Ahora estás conociendo todos mis secretos", dice riendo. "Mierda. Incluso cuando no estoy cojeando. Por eso parezco tan melancólico. Tengo una maldita piedra en el pie".
Una cosa que Brody enfatiza mientras caminamos es cuán improbable era que sucediera todo esto: cuántas cosas pequeñas e imposibles tienen que salir bien para hacer cualquier película, y mucho más una que impulsa a su actor a través de la temporada de premios para acabar convirtiéndolo en un icono hollywoodiense. "Sabes, esas cosas no suceden prácticamente nunca", dice. "Pero puedes tener la expectativa de que deberían suceder con regularidad".
Le llevó un tiempo superar esa expectativa, por lo que los años que siguieron a su victoria en los Oscar le des- orientaron. "Llevaba 17 años actuando, así que la gente me reconocía y era normal", dice. "A los paparazzi no podía importarles menos. Nadie me seguía. Nadie se comportaba de forma extraña. Nadie hacía cosas raras. Y luego, de repente, todo empezó a ser muy extraño". Después de ganar el Oscar, no volvió a tener una interacción igual con ninguna persona. "Fue como si hubiera entrado una tormenta", dice. "Todo comenzó a volar, la vida que conocía".
No cambies, le decía la gente. No cambies. Y él no lo hizo. Pero todos los demás sí. Le hablaban de una manera diferente. Los amigos querían hacer negocios con él. Los fotógrafos querían tomarle fotos. Los directores lo querían para sus películas. Nada de eso le sentó muy bien. "Es como si me hubiera llevado una década descubrir quién era y dónde estaba. Mucho vivir y perder, y ganar y perder", dice.
Durante un tiempo, tuvo la inusual mala suerte de aparecer en varios proyectos fallidos de cineastas de éxito. Hizo The Village, el primer gran tropiezo de M. Night Shyamalan. El remake de gran presupuesto de King Kong, de Peter Jackson. La lúgubre película de Wes Anderson Viaje a Darjeeling. The Brothers Bloom, de Rian Johnson. To-as eran elecciones lógicas, por sus propios méritos; todas las actuaciones caracterizadas excepcionalmente con el intenso elemento melancólico de Brody; todos los resultados desafortunados, según la dura crítica de Hollywood.
Soñaba con escaparse, con encontrar un lugar en el norte del estado de Nueva York, el tipo de casa que su padre habría marcado en los listados de inmuebles cuando era niño. Sus amigos Mark Ruffalo y Vera Farmiga vivían en refugios alejados de la ciudad, lo que demostraba que escapar no era incompatible con una carrera en Hollywood. Estaba saliendo con la actriz Elsa Pataky en ese momento, y pensó que podrían hacerlo juntos. "Recibí demasiada atención para mi gusto, y pensé que podría buscarme un lugar apartado, entrar, hacer mi trabajo y retirarme otra vez… No sé por qué, pero imaginé que sería fácil".
Pero tratándose de Brody, no fue fácil. Estaba trabajando en una película en Serbia cuando encontró Stone Barn Castle en un listado de inmuebles. La enorme casa de guijarros unidos por cemento, a unas cuatro horas de la ciudad de Nueva York, tenía establos para caballos e incluso un huerto de manzanos. Brody se enamoró de ella. "Soñaba con algo dramático", dice. La compró y sorprendió a Elsa con ella.
Se pusieron a hacer una renovación masiva. Pero la relación terminó antes de que pudieran mudarse de la casa de huéspedes al edificio principal.
Pasarían todavía tres o cuatro años antes de que Brody lo estrenara, tan intensa era la reforma. Lo que comenzó como un lugar para escapar se convirtió en un proyecto que lo consumía todo. Viajó a India y China para encontrar los materiales adecuados. Compró ventanas de iglesias y vigas talladas a mano en granjas de Nueva York, Pensilvania y Canadá. Tuvo un equipo sólo para repasar las piedras durante cuatro años. Consejo gratuito de Adrien Brody para remodelar el hogar: no te preocupes por repasar las piedras. "Contraté a un grupo de hombres para que esculpieran cada piedra, bajo tierra y en la parte de arriba. Y luego, cuando todo estaba terminado, se veía igual. Un poco más ordenado". Ese sentimiento impregnaba todo el proyecto: "Todavía no sé cuál es realmente su propósito", dice. "Pero es un logro".
Y luego, hace cinco o seis, o tal vez ocho años, se dio cuenta de que su trabajo diario no se estaba volviendo más fácil. Seguía aplicando el esfuerzo maníaco que lo llevó a la fama, pero el trabajo ya no parecía compensar el esfuerzo. "Hubo un largo periodo de tiempo en el que me di cuenta de que ese camino no estaba funcionando, por alguna razón", dice. "Aspiraba a más, y sentí que mi teoría de contribuir y verter mi sangre, sudor y lágrimas en un proyecto no estaba dando los resultados que esperaba. Hubo una desconexión, de alguna manera, con lo que había hecho durante tanto tiempo, y simplemente no estaba funcionando". Así que dio un paso atrás. Terminó los proyectos en los que estaba trabajando y rechazó los que venían. Se dejó crecer el pelo y la barba. Salió con artistas y comenzó a pintar. Hizo música. Viajó por el mundo.
Con el tiempo, estos pasatiempos dejaron de ser meras distracciones del mundo de la actuación y se convirtieron en formas de reforzar su fe en su propia creatividad: formas diferentes, y a menudo menos dolorosas, de canalizar su energía. "Eso es vivir, no huir", dice. "Es estar presente con algo y tratar de crear algo que perdure".
Inicialmente, nuestro plan era reunirnos nuevamente el día siguiente para conversar durante la comida. Pero mientras comemos en el estacionamiento después de nuestra caminata, pensamos: ¿por qué no volver a hacer esto mañana? Tendremos que levantarnos un poco antes, para tener en cuenta el calor, pero Brody está de acuerdo y yo también. Más tarde, esa noche, me envía las coordenadas que debo seguir, a las 7:30 de la mañana siguiente, para llegar al principio de un sendero cerca de un espeluznante zoológico abandonado. Esta vez, Brody ha empacado un recipiente de melocotones y naranjas en rodajas, y trae pequeños tenedores de ostras que usamos para comer la fruta.
Casi de inmediato, Brody centra su atención en una ardilla escondida en una roca cercana. Se agacha, deseando que la criatura se acerque, y se disculpa con ella por no haber traído comida. "Lo siento", dice. "No he venido preparado porque no sabía que iba a conocer a un tipo tan tierno". Brody es paciente y está quieto, y funciona: la ardilla se acerca unos centímetros, luego se retira y luego se acerca de nuevo. Repiten el baile hasta que el animal está a un centímetro de la mano de Brody. "Adrien Brody imita con realismo el ruido de la ardilla", dice, anticipando cómo aparecerá la interacción en esta historia, "y luego se comunica con el animal salvaje que está delante de mí en el zoológico". Todo esto dura unos cinco minutos. "Le di la oportunidad de morderme", dice Brody, tras romper el contacto visual con la ardilla. "No lo hizo".
Adrien sigue arriesgándolo todo, todavía está dando a las ardillas del mundo la oportunidad de morderle, pero últimamente las cosas han estado saliendo como él quiere. Mantiene una feliz relación con la diseñadora de moda Georgina Chapman. (Debido a que Chapman estuvo casada anteriormente con Harvey Weinstein, Brody se ha convertido nuevamente en un foco de la prensa). "La vida funciona de maneras misteriosas, digámoslo de esa manera", dice sobre la relación. Y luego, más tarde, sobre la extraña forma en que su relación se ha convertido en algo de interés para el público: "¿Qué podría decir respecto a eso que lo convierta en algo diferente de lo que es?".
Encontró su camino de regreso a Hollywood, primero en pedacitos y luego todo a la vez. Pasó un tiempo escribiendo y luego haciendo Clean, una película sobre un trabajador de saneamiento de Nueva York con un pasado tortuoso, que se estrenará el próximo año. Ese proyecto le permitió explorar algunas ideas profundamente arraigadas sobre lo que hace que el drama sea convincente, en el cine y en la vida: "Todo tiene que ir en tu contra. Y luego, si lo logras, se convierte en algo heroico, y eso es la vida real, y eso es a lo que todos se enfrentan todos los días". (También pudo disfrutar de una pasión que tiene desde hace mucho tiempo: su personaje conduce el Buick Grand National 1987 negro mate de su propiedad. "Es un coche hermoso", dice. "Muy amenazante").
Tras alejarse un tiempo y ganar una nueva perspectiva, descubrió que algunos "cineastas interesantes" le llegaban con cosas. Muchos de estos proyectos le han liberado de la responsabilidad de ser el protagonista obligado a sufrir para el disfrute del público. En cambio, hace un trabajo muy agudo con los personajes. Roba las escenas y clava las bromas.
En especial, le encantó interactuar con Brian Cox y Jeremy Strong en el rodaje de la tercera temporada de Succession. "Ahí estoy saltando con estos grandes tiburones en su elemento, en su océano", dice Brody. "Y luego tengo que saltar y morderles de vuelta. Me gusta lo emocionante que es eso". Conoce a un par de tipos como su personaje, dice, los famosos multimillonarios. Le pregunto si los ha llamado para preguntarles sobre los aspectos más importantes del estilo de vida de un ejecutivo. "No, no, ni siquiera necesito hacerlo", dice sonriendo como si acabara de completar su formación como director de ventas. "¡Ya les he preguntado! ¡Ya lo sé todo!". Brody dice que le ha gustado trabajar con el tono crudo y divertido del programa. "Tiendo a insistir en muchas de las cosas fuertes que veo en la vida", dice. "Pero hay mucho humor incluso en las cualidades no tan agradables de la gente que conoces. Ciertas cosas que salen a relucir y piensas: 'Eso ha sido extraño' o 'Eso ha sido un poco ofensivo".
En otras ocasiones, se inclina hacia la comedia pura. En The French Dispatch interpreta a un hábil tratante de arte que reconoce, en un pintor encarcelado por asesinato, el futuro del arte contemporáneo –y, con alegría, se ríe–. Dirigida por Wes Anderson, es la última colaboración que le está ayudando a reescribir la trayectoria de su carrera. "Wes me ha permitido divertirme", dice. Más que eso, parece que Anderson le ha mostrado al resto de Hollywood que Brody también puede divertirse. "No es algo que [Wes] haya tenido que sacarse de un sombrero", dice Brody, con una encantadora insistencia en que ha aprendido a relajarse y divertirse un poco.
Por supuesto, Brody todavía disfruta del trabajo duro. Andrew Dominik, director de la película biográfica de Marilyn Monroe Blonde, elogió la actitud de Brody a la hora de no pulir su retrato de Arthur Miller. "Está interpretando a un personaje al que no se le ve con simpatía", me dice Dominik. "Y a menudo, cuando un actor está interpretando un papel poco halagador, lo hace actuando como un idiota. Es una forma de decir: 'Estoy jugando a ser un idiota, pero no soy yo'. Y el instinto de Adrien fue todo lo contrario ". Mientras tanto, Chapelwaite, estrenada este año, fue la típica actuación sufrida de Brody. La serie de Epix, adaptada del cuento de Stephen King Jerusalem's Lot, era puro horror gótico, pero Brody, no obstante, fue capaz de extraer algo de su experiencia: interpretó a un hombre conducido a la locura después de tomar posesión de una casa embrujada.
Con el tiempo, Brody se ha vuelto un poco más sabio sobre aquello por lo que vale la pena sufrir. Para explicar este cambio, me cuenta una historia sobre una película que hizo hace más de una década. Wrecked era un incómodo thriller cuya acción comenzaba momentos después de que el personaje de Adrien estrellara su coche en un barranco y sufriera un ataque de amnesia (y algo peor). Brody aparece en casi todas las tomas con diversos grados de agonía. "Sólo se me ve gritar y golpearme durante un par de horas", así lo describe. El rodaje fue brutal: el personaje tiene una pierna rota en la película, lo que significa que Brody se pasó la mayor parte de la producción arrastrándose boca abajo por el bosque. Después de un tiempo, comenzó a usar el dorso de las manos para gatear, ya que sus palmas estaban llenas de espinas.
Un día estaban filmando al lado de un río, y Brody notó que el agua que corría había tallado un pequeño estanque ovalado perfecto en el centro de una roca. En este estanque, Brody vio "un gusano que se ahogaba, ondulando en el fondo de la piedra". Parecía una de las fotografías de su madre. Este pequeño gusano, ahogándose pero todavía retorciéndose hacia la superficie, peleando una batalla que Brody podía ver que estaba condenado a perder, lo llenó de emoción. Sabía que ésa era la razón por la que estaba sufriendo durante el rodaje: éste era su personaje en una sola toma. "Ese tipo no lo logrará, y es tan hermoso", dice. "Es tan pintoresco y trágico, y abarca todo lo que estamos diciendo". Le pidió al director que lo filmara.
Pero Wrecked era una película independiente, con poco dinero y poco tiempo. El director dijo que no. Brody preguntó de nuevo. El director volvió a decir que no. "Me lo comeré", ofreció Brody. El director pidió su cámara. Brody se comió el gusano. "Fue repugnante", me dice Brody. "Creo que me puse enfermo". Hace una pausa. "Pero está en la película".
Comparte esta historia conmigo en un sendero rocoso muy por encima de la soleada ciudad de Los Ángeles, el emocionante tercer acto de su carrera presentado como la autopista zumbando debajo de nosotros. Pensando en el gusano que se comió, Brody se pregunta ahora para qué sirvió realmente su sacrificio. "¿Qué gané con ello?", pregunta. "¿Quién se dio cuenta?". Wrecked fue una película indie con muy pocos espectadores, y hay que buscar la escena para verla. Sabe que no tenía por qué hacerlo. "Pero de alguna manera", dice, "me sentí obligado a hacerlo".
Creo que lo que ha aprendido es algo sobre sus propias expectativas. Algo liberador, quizás. No es necesario que crea que comerse un gusano convertirá una buena película en una excelente. O que arreglar las piedras subterráneas, las que nadie verá nunca, le dará sentido a una renovación de años. Hacer lo difícil no siempre es la respuesta. El sufrimiento no te convierte en un mejor artista, y definitivamente no te convierte en una persona más fácil de tratar. Pero no puedes aprender de qué estás hecho realmente sin tu parte justa de sufrimiento.
Unas horas antes, le había preguntado por qué se había aferrado a su castillo; si, una vez que la renovación comenzó a prolongarse, había pensado en deshacerse de lo que se había convertido, ineludiblemente, en un recordatorio muy costoso de una situación difícil. Consideró la idea. Por supuesto que sí, me dijo. ¿Cómo podría no haberlo pensado? "Podría haber vendido. Podría haberme salido de inmediato y haber dicho: Esto es demasiado", me aseguró. Y luego, como si fuera la cosa más obvia del mundo, añadió: "Pero no puedo hacer eso".
*Sam Schube es subdirector digital de GQ.
**Entrevista originalmente publicada en el número 279 de GQ.
Fotografía: Jason Nocito
Estilismo: Jon Tietz
Peluquería: Thom Priano para R+Co. Haircare
Maquillaje: Kumi Craig para The Wall Group
Tailoring: Ksenia Golub
Set design: Robert Sumrell para Walter Schupfer Management
Producción: Eric Jacobson de Hen's Tooth Productions
---
Fuente: https://www.revistagq.com/noticias/articulo/adrien-brody-entrevista-gq-the-french-dispatch-succession-blonde-pat-riley?fbclid=IwAR2nLmcwfuuJpYPTfcppO6iaJ35Cdo8tpxWoY9YiMjrPr_S5otvgmfyadnY
August, 2021
Academy Award winning actor, Adrien Brody, shows that art really does imitate life in the French Dispatch.
Interview & Photographs by: John Russo 
Grooming by: Rachel Burney for The Wall Group
Styling by: Jennifer Austin for Opus Beauty
Location:  Los Angeles
Q: Take me back to playing, Władysław Szpilman,in The Pianist. Could you have ever imagined such an incredible career at that point?
A: Taking on the responsibility of playing Wladisaw Szpilman, was such a tremendous task. I poured every ounce of my being to the project and, in turn, gained an enduring sense gratitude and appreciation — and also a great deal of love and respect from the world. That shift and feeling of connection to so many human beings was so profound that it triumphs the concept of it merely being about an acting career. It has been truly life changing in so many ways and continues to awe and humble me.
Q: You have played so many different roles in your career. Which roles have stood out for you as the most challenging to play and why?
A: Obviously, portraying Szpilman in The Pianist took the greatest responsibility and discipline of the many roles I've played. I felt a great burden to represent that horrible time. It was essential to approach the work with truth and to respect and honor the tremendous loss and suffering of the Jewish people, and for all of humanity. I have had many other challenging roles. A few that come to mind are: A conflicted outsider named Ritchie, in Spike Lee's Summer of Sam. Royce, in Predators, which also required an intense physical transformation. There was quite a bit if pressure to honor the awesome stage presence and technical mastery, and fearlessness of Harry Houdini. Recently I had to embrace a haunted madness to portray Charles Boone, in Chapelwaite, and the pressure is on now as I step into the shoes of the Iconic Pat Riley, in the HBO project I'm working on now about the Los Angeles Lakers.
Q: In addition to acting, you're also an artist. How does creating art help you in your life? Does it create balance? Are you planning any new exhibitions of your work?
A: I believe all forms of creative expression help us find our way — as individuals, and as society as a whole. We commune through art in all of its many forms. We find purpose for suffering, understanding for loss, patience for our differences, and joy and a sense of peace and purpose in the beauty that comes from sharing each other's inspiration. Painting has been such a gift for me. It affords me a creative outlet with a degree of autonomy that allows me to create works that speak to me and at my pace. There isn't a need for a whole production. I work feverishly when I'm inspired, I rest when I can't work and work when I can't rest.
Q: I thought your performance as Dmitri Desgoffe-und-Taxis, in the Grand Budapest Hotel was quite Oscar-worthy. What is it about Wes Anderson's quirky and sometimes bizarre films that brings out some your best work?
A: Thank you, that is very kind of you to say. I am so happy to have gotten to play and collaborate with Wes on so many occasions, and lucky to be lifted up by his greatness. He is such a visionary Director. His work is so unique and funny and precise. I love the strangeness and charming, insightful moments of all his films.
Q: You are set to executive produce and star in "Chapelwaite", based off of the Stephen King short story "Jerusalem's Lot". What was your research process for the role? Did you read the short story?
A: I am really honored to have an opportunity to do something strong within the genre. I have been a long time fan of Stephen King and horror films are a guilty pleasure. Jerusalem's Lot is such frightening and foreboding tale and the evolution of King's material into Chapelwaite gave me a chance to play a heroic father fighting against demons in all forms to protect his family. He, and the story, is utterly relatable and remarkably contemporary even though it is set in the 1850's. I can't wait for people to get to enjoy it.
Q: You're no stranger to the horror genre with films like "The Village"and "Predators". How was the process of adapting and filming the supernatural horror elements in this series?
A: On Chapelwaite we were supported by believers and professionals. It began with great source material the producers assembled a team of fantastic special supervisors, strong actors and great writing. None would be possible without the tremendous support from the Michael right, the head of Epix, and his team.
Q: In your new film, "The French Dispatch"you have teamed up with Wes Anderson yet again. This is such a highly anticipated film. The cast is insane in terms of star power & talent. As art imitates life, you play Julian Cadazio, an art dealer, based on Lord Duveen, an art dealer born in the late nineteenth century. Did being an artist and knowing the mentality, struggles and idiosyncrasies of an artist help you in bringing this character to life?
A: My mother, Sylvia Plachy, is a gifted NY photographer. I grew up in New York steeped in her beautiful and haunting images of my city. Photos of the streets, the culture, great artists like Basquiat, Warhol, Keith Haring. She went to art school and is truly an artist herself. My father, although he was a school teacher by profession, is also a gifted self-taught painter. I am an actor, but painting has always great meaning in my life. I grew up with many friends in the art world and even more friends who are gifted and yet are not a part of that world. I have lots to "draw from," so to speak. There's much beauty and talent, and tragedy and absurdity, and all the colorful characters I have encountered somehow help me depict the ones I portray. Cadazio is no exception.
Q: Season 3 of "Succession"is coming back this Fall. You play Josh Aaronson, a billionaire activist investor who becomes pivotal in the battle for the ownership of Waystar. Were you a fan of the show before you joined this season? What was it like working with the cast?
A: I love Succession. It is one of the best shows ever on television. It's such an honor to get to come and play, even for a little bit, with so many talented people. It's also delicious to play such a powerful, unscrupulous character. I'm grateful to Adam McKay for his great work and inviting me in on this and our Lakers project.
Q: You're currently filming an untitled Lakers series for HBO where you'll play legendary coach Pat Riley. How has filming been so far? What are some challenges of playing a real person?
A: Pat Riley is one of the most iconic and memorable coaches ever. He's inspired and elevated the best players in the league, he's a former basketball star himself, and is beloved. Those are big shoes to fill. What's been most exciting about the Lakers show, aside from the privilege of working with great actors, writers and producers on an expertly crafted series, (shot on film for HBO) is to really understand the journey and the many difficult roads that all of these iconic people have traveled to get to where they are as we know them. Our heroes' lives are full of great challenges and the insight into their personal lives and the many trials and tribulations they must overcome are fascinating.
Q: One of your upcoming films is "Blonde", a fictionalized take on the life of Marilyn Monroe. What drew you to that project?
A: I've loved Andrew Dominik's work since I saw Chopper, and have always wanted to work with him. He's just such a phenomenal filmmaker, with tremendous insight and understanding. Marilyn Monroe's life was one of the greatest and most tragic stories of an actor ever. She was someone who literally worked herself to exhaustion to be appreciated for her craft while most people couldn't get past her beauty and magnetically seductive persona. Although so many people have emulated her, she had it really hard. Ana De Armas' interpretation of her is just spellbinding. It's a tour de force. Arthur Miller remains one of our greatest playwrights ever and he too had an amazing, and challenging life in Hollywood. I loved the experience of making this, it was a feast for me not only as an actor, but also as someone who appreciates the enormous contributions of the characters we portrayed, and the collaborative experience while witnessing my peers reach great heights before my very eyes.
Q: The classic question…what's next for Adrien Brody?
A:  I am at a place of tremendous gratitude. I, of course, hope to continue to find inspiring work on so many varied projects. I have a few things up my sleeve and so much I aspire to accomplish but each day is a blessing.
---
Source: https://giojournal.com/a-tremendous-place-of-gratitude/?utm_source=rss&utm_medium=rss&utm_campaign=a-tremendous-place-of-gratitude
Esquire México – Esquire Latinoamérica https://www.esquirelat.com/entrevistas/adrien-brody-the-french-dispatch-esquire/
Nos encontramos con el Adrien Brody de la mirada nostálgica –el dueño de una de las narices con más personalidad en el mundo– en el acogedor Waldorf Astoria de Nueva York para esta sesión exclusiva con Esquire México. Disfrútenla tanto como nosotros lo hicimos preparándola.
Hay momentos en la vida donde las cosas parecen tomar sentido… pero este no es uno de esos momentos", fueron las palabras que surgieron del actor Adrien Brody al ganar el Oscar por El Pianista, convirtiéndose –a sus 29 años– en el actor más joven en obtener la estatuilla, desde que Richard Dreyfuss lo hiciera por La chica del adiós en 1977. 
Unos segundos antes, Adrien Brody había saltado al escenario del entonces Teatro Kodak, en el corazón de Hollywood, tomando por sorpresa a la presentadora de su premio dorado, Halley Berry, con un beso en la boca que pasaría a la historia de la Academia como uno de sus momentos más eufóricos y controvertidos.
El tiempo se vuelve más precioso. No se trata solo de los minutos del reloj, sino de estar presente.

Adrien Brody
Con el paso de los años, las palabras de Adrien Brody también han trascendido desde esa primavera del 2002, representando esa incredulidad ante ser elegido por algo más grande y ser insertado en una situación extraordinaria.
Los tiempos del 2020, que han recluido a la humanidad tras los efectos del Covid-19, hacen poderosa la reflexión sobre tratar de encontrar un sentido donde aparentemente no lo hay.
"Creo que es una lección que aprendemos conforme crecemos. El tiempo se vuelve más precioso. No se trata solo de los minutos del reloj, sino de estar presente. Ahora, con el encierro de esta cuarentena, quiero sumergirme en las cosas que amo de la vida", comparte Adrien Brody con Esquire, vía un enlace streaming en el cual el actor de 47 años luce enmarcado por un encuadre de Zoom.
A manera similar, entre cuadro paredes se encuentra Adrien Brody en los primeros avances en línea de The French Dispatch (2021) de Wes Anderson, interpretando a Julien Cardozo, un vendedor de arte francés que ha sido colocado en una celda al lado de un famoso pintor, Moses Rosenthaler (Benicio del Toro), al que le ruega le de permiso de representar su obra en el mundo, si algún día se abren los candados de su encierro o llegaran a escapar.
Inspirado en Joseph Duveen, quien en el siglo XX trajera obras europeas a los grandes museos de Estados Unidos, Cardozo es parte de un ensamble de personajes que Anderson convocó para ser personificados por los actores Timothée Chalamet, Léa Seydoux, Edward Norton, Elisabeth Moss, Willem Dafoe, Christoph Waltz y, el siempre presente en su lista, Bill Murray.
The French Dispatch, cuarta invitación de Anderson a Brody, trae consigo el espíritu rebelde de los años 60, des- plegado en las publicaciones de un diario ficticio francés –muy a la revista The New Yorker– con historias, cuentos, caricaturas y anécdotas de personalidades singulares.
Mi mamá es una gran artista y una inspiración para mí. Antes de actor comencé a pintar y lo he hecho toda mi vida.

Adrien Brody, 2020
Todo con el estilo geométrico, colorido y musical que caracteriza a Anderson. "No necesariamente me atraen los personajes con los que tengo algo en común. Tanto Cardozo como yo tenemos un gran amor por el arte y me imagino que él pudo haber aspirado a ser pintor en su vida, pero en algún momento se volcó al aspecto del negocio de ese mundo", refiere Brody, quien posee la fascinación por la imagen como su madre Sylvia Plachy, migrante húngara y fotógrafa profesional con exposiciones diversas.
Cuando en la entrega 75 del Oscar, Brody, desde la butaca, escuchó su nombre de la boca de Berry, a quien primero abrazó fue a Plachy, quien de pie desbordó su fascinación al ver a Jack Nicholson, Nicolas Cage, Nicole Kidman, y otro grupo de celebridades, otorgarle a su hijo también una ovación.
"Mi mamá es una gran artista y una inspiración para mí. Antes de actor comencé a pintar y lo he hecho toda mi vida. Pasé años persiguiendo y cultivando mi trabajo como actor y fue hasta hace siete u ocho años cuando volví a pintar de manera más seria.
He hecho varias exposiciones, trabajando duro en eso. La cuarentena, sin duda, ofrece más oportunidades para hacer más en solitario", dice Brody, quien en agosto del 2019 donó una pintura trazada con sus propios dedos a la UNICEF para ayudar a recaudar fondos.
Cuando en Esquire invitamos a Adrien Brody a su sesión fotográfica, en el corazón del Waldorf Astoria Hotel que colinda en Park Avenue, los ecos de los inicios del actor en el cine seguro llegaron, siendo Historias de Nueva York su primer incursión a la pantalla, dentro de la aventura de una niña que habita un hotel lujoso de la Gran Manzana.
El Pianista … es entender el sufrimiento y odio que vive la sociedad, llevándome en ese año del rodaje a valorar mi buena suerte.

Adrien Brody, 2020
En esa producción de 1989, el propio Francis Ford Coppola fue padrino del inicio de la carrera en celuloide de Brody. A solo unos pocos kilómetros de ahí, en su natal Woodhaven, Queens, el actor había experimentado el arte de asombrar al público, cuando se vistió de mago y se autonombró "The amazing Adrien", ejecutando diversos actos en fiestas para niños.
Pero también ese vecindario fue donde Brody recibió los primeros embates de violencia del mundo al ser atacado por otros niños con crueles comentarios. Su madre fotógrafa y su padre –pintor y maestro de arte–, usaron su sensibilidad para matricularlo en clases de actuación.
A los 13 años de edad, Adrien ya estaba sobre el escenario de Off-Broadway y había participado en una producción del canal de televisión educativo, PBS.
El joven actor creció para dominar su propio cuerpo como instrumento de comunicación, con una complexión espigada y mirada melancólica que recuerda a los maestros de la comedia silente en el cine, como Keaton y Chaplin, sumado a ese perfil de nariz grande que lo coloca por igual como un europeo, un migrante o un hombre con presencia que no quiere doblegarse ante los embates de la vida.
"Al ser actor tienes tus primeras oportunidades y algunas de ellas son tan profundas como aquellas que vendrán después en tu vida, que podrían parecer más trascendentes. Esto es porque esas oportunidades son las primeras veces que tienes acceso a un verdadero crecimiento".
"Por ejemplo, el inicial llamado de un director importante, donde entiendes el porqué siempre debes esforzarte en todo momento para que exista esa dinámica actor y realizador", explica Brody, que similar a veteranos de la actuación como Donald Sutherland, ven cumplida su misión histriónica cuando ayudan a materializar la visión del director.
Sin duda, la alianza que marcó un antes y después en la vida de Brody, fue su colaboración con Roman Polanski, controvertido artista del lente, quien vio en la autobiografía de su compatriota polaco Wladyslaw Szpilman, inspiración de El Pianista, la posibilidad de narrar su propia experiencia de supervivencia en el Ghetto de Cracovia.
"El Pianista fue un viaje épico en mi vida y lo que aprendí, en ese proceso de trabajar con Roman, es entender el sufrimiento y odio que vive la sociedad, llevándome en ese año del rodaje a valorar mi buena suerte como joven neoyorquino, haciéndome consciente de la pérdida y los estragos de la guerra", afirma.
Nunca me imaginé que habría un reconocimiento por mi trabajo.

Adrien Brody, 2020
"Fue algo muy profundo, tanto que no puedo ni poner en palabras lo que la experiencia de filmar El Pianista significó para mí. Fue un gran regalo. Algo que te abre los ojos y que agradeces haya provenido de tu trabajo", siente Brody, quien adelgazó de sus 70 kilos a 55 para su papel de superviviente del holocausto.
Para el filme que lo llevaría al Oscar, Brody tuvo que llevar a un nivel mayor su expresividad de las manos, que siempre le han dado carácter a su actuación, teniendo que aprender a colocarlas y moverlas sobre el teclado del piano lo más semejante a un profesional.
El propio Polanski colocaba en bocinas la música del pianista Szpilman, para que Adrien marcara las notas con esa mezcla de fiereza y delicadeza de su persona.
"Nunca me imaginé que habría un reconocimiento por mi trabajo. Como el joven que era, sentí un despertar como persona. Fue ciertamente un enorme giro en mi carrera y una gran suerte haber recibido un material de tan altísimo nivel y tan temprano en mi profesión", revela Brody.
Así llegó a su manos la oportunidad de colgarse del cine de aventuras y viajar en el mundo, pasión que comparte con sus seguidores de Instagram, como la escalada en Nepal a las faldas del Everest.
Brody lo mismo ha sido el excursionista en la Isla Calavera del King Kong de Peter Jackson, que el soldado de la segunda guerra mundial apostado en el Pacífico de La delgada línea roja, de Terrence Malick.
Igual se ha vestido de detective de cine negro en Hollywoodland, que leído los diálogos de Woody Allen en Media noche en París, ser parte de un thriller para Spike Lee en Summer of Sam que salvando al mundo de alienígenas en el remake de Depredador; ni hablar de su gran escape en la biografía de Houdini.
El mundo volteó a verlo con su interpretación del torero Manolete, en el filme biográfico del mismo nombre, donde Brody pudo llevar su acostumbrada intensidad al terreno del amor trágico, pisando los pétalos rojos lanzados por Penélope Cruz en una cinta cuya sentencia inicial explica un poco esa mirada de Adrien hacia los temas oscuros de algunos de sus filmes.
"Para ser un gran torero, tienes que estar un poco enamorado con la muerte", sentencia. El salto de lo negro a la luz, y de lo sombrío a la carcajada, podrían ponernos a Brody como un danzante en su actuación, nunca sintiéndose cómodo en un sitio y ahora, en The French Dispatch, celebrando su colaboración con Anderson tras haber estado en su Viaje a Darjeeling (2007), El fantástico Señor Fox (2009) y El Gran Hotel Budapest (2014).
"Me siento muy privilegiado de trabajar con Wes Anderson. Tener una verdadera amistad con alguien con quien puedes colaborar de manera creativa es un regalo. Somos como una familia y cultivar esa intimidad y confianza con alguien que te ayuda a elevarte de manera artística es una bendición", explica Brody.
El actor con rostro posmoderno, que tiene una caricatura de sí mismo en su cuenta de Instagram, también ha aprovechado el tiempo para componer música y escribir el proyecto Clean, usando su propio espacio entre paredes para crear arte, reinventarse y gestar historias que intenten darle sentido a las cosas, mientras el mundo toca notas de luces y sombras en este inicio del siglo.
CRÉDITOS:
Fotografías por: César Balcázar
Texto por: Mario P. Székely
Esquire México – Esquire Latinoamérica https://www.esquirelat.com/entrevistas/adrien-brody-the-french-dispatch-esquire/
Compartido por AdrienBrodyFansite
Fuente:  Variety (Agosto/2017)
Traducido por:  ABFansite
---
Adrien Brody fue honrado el Viernes 04 de Agosto de 2017 con un premio al logro de toda su vida y carrera cinematográfica en el Festival de Cine de Locarno, el evento indie más destacado de Europa, donde se sentó con Variety y habló sobre por qué su Oscar 2003 por "The Pianist" no dio lugar a tantos papeles de estudio como podría esperarse. También ahondó sobre sus lazos con China, donde es uno de los pocos astros occidentales que se puede financiar; y fue cauteloso acerca de sus próximos papeles, en el programa de televisión "Peaky Blinders" y su nueva película "De Niro" (Bullet Head). Extractos.
De tus primeras películas, una que voy a destacar es "Bread and Roses" de Ken Loach, que se celebró aquí en Locarno el año pasado. Todavía es oportuno, dado que se trata de trabajadores mexicanos explotados en Nueva York ¿Puede hablar conmigo sobre trabajar con Loach? ¿Cómo pasó?
No recuerdo la audición, pero sí recuerdo la naturaleza de la forma en que trabaja: todos los demás participantes no eran actores. Aparte de las dos chicas principales y una o dos personas más. El resto de ellos eran conserjes, algunos eran organizadores sindicales; eran gente real. Lo cual fue interesante. Su enfoque era tener tantas cosas espontáneas como pudieran; y eso potencialmente cambiaría el guión. Nos daría dos tercios de una escena, y no sabría la resolución. Fue realmente interesante incluso como ejercicio para mí… Ken es un alma tan genuina y generosa. Él es una persona amable y preocupada. Es de gran calidad como director.
Su carrera se celebra aquí en Locarno, que es un templo del cine independiente. Por supuesto que has trabajado mucho en el mundo independiente y con algunos de los mejores directores. Pero también ha interpretado papeles de estudio como en "King Kong" y "Depredadores". Me pregunto, por qué no ha trabajado más en el sistema de estudio. Después de todo, ganaste un Oscar cuando tenías 29. ¿Es porque no te han ofrecido los papeles correctos?
No. Es porque tallé mi propia ventana. Pero parcialmente tienes razón, no ha habido el papel correcto. Si me hubieran ofrecido los roles icónicos de los protagonistas que los estudios estaban haciendo cada vez más en ese momento; los roles a los que George Clooney gravitaría, alguien mucho más establecido… Todavía hay una jerarquía, y todavía hay un puñado de películas realmente brillantes que se han hecho. Estoy muy agradecido por el honor que me otorgaron al ganar un Premio de la Academia siendo joven. Después de eso fue muy importante para mí seguir siendo un actor, si eso tenía sentido, y no convertirme en lo que todos proyectaban sobre mí… Sentí que tal vez era la avalancha de lo que venía en mi dirección, incluso con algunas de esas películas de alto calibre que venían hacia mí, quería seguir con mi m.o. (modus operandi) que era: encontrar papeles que "me hablen" antes que nada; cineastas que son interesantes y no tienen miedo de las decisiones creativas arriesgadas, porque veo el proceso como algo que debería estar mucho más motivado artísticamente. "Depredadores" es un gran ejemplo: no hice "Depredadores" porque me moría por hacer una película de estudio. Es una película de estudio, pero lo hice porque pensé: 'qué interesante, qué impredecible, qué maravilloso desafío sería ponerse en la piel de un personaje de Swartzenegger; el papel de héroe de acción abiertamente musculoso de los años 80, y hacerlo con un sentido diferente, pero también intentar aportar mi propia integridad".
Al igual que Clooney, tiene su propia compañía de producción, 'Fable House'. Pero su empresa, creada en 2014, tiene financiamiento de China, donde, según tengo entendido, lo aman gracias a "Dragon Blade", que fue un gran éxito en 2015, y antes de estuvo en la cinta "De regreso a 1942." ¿Puede hablarnos de eso? ¿Acerca de sus vínculos con la industria cinematográfica china?
Mi fascinación por el cine chino comienza con mi padre. A principios de los '80 íbamos a Canal Street y veíamos películas graciosas y alocadas de Kung Fu; grandes películas antiguas extrañas, que apuesto a que influyeron en Tarantino. RZA de Wu Tang Clan también se inspiró en ellos y creó una subcultura entera de hip hop infundida con esta cultura. Así que siempre he tenido esta conexión… Me encantaron todas esas cosas cuando era adolescente. Estudié artes marciales. China es un lugar fascinante. Creo que en general, las relaciones están un poco sesgadas y hastiadas ahora, porque Hollywood está clamando por ser parte de ella y viceversa. Obviamente hay muchos recursos allí, mi tiempo fue interesante porque estuve adelantado en el camino. Para ser honesto, ser un hombre de negocios no me atrae tanto. Toda mi motivación fue para crear mejores oportunidades para mí como actor y China me ha acogido con satisfacción. En el caso de "Dragon Blade" tuve que interpretar este personaje de artes marciales. Todo se intensificó, pero fue muy divertido interpretar a un villano puro con todo tipo de inseguridades. Y Jackie Chan y sus socios productores han sido de gran apoyo. Pero me he retractado de desarrollar varios proyectos, porque es engorroso hacer coproducciones. Además también me dedico al arte, estoy pintando muy seriamente, lo cual es una gran parte de mi vida y de hecho estoy en un hiatus, me estoy tomando un descanso y decidí no hacer negocios y no actuar a menos que surgiera algo que realmente me conmoviera. Pero todavía me apasionan algunos proyectos de [Fable House], que todavía están presentes.
Estuviste haciendo televisión: "Houdini", un episodio muy bien acogido de la serie "Dice". Y pronto serás la mayor amenaza de Thomas Shelby en la nueva temporada de "Peaky Blinders". ¿Puedes revelar algo sobre tu parte en "Peaky Blinders", más allá del hecho de que serás una gran amenaza para la familia? ¿Qué tipo de preparación hiciste para sumergirte en el papel?
Prefiero no profundizar demasiado porque la producción es súper reservada, pero me encanta el espectáculo. La escritura es fantástica, lo cual es de gran emoción para mí. Steve Knight es muy talentoso, los actores a bordo son geniales. Todo lo que puedo decir es que es divertido sumergirme en él, y es el tipo de papel que he deseado interpretar desde hace mucho tiempo.
Tu próxima película en llegar a las pantallas se titula "De Niro" (actualmente "Bullet Head"), que se describe como una película de suspenso tipo Reservoir Dogs. ¿Puedes hablarme sobre eso?
Lo hicimos, trabajar con John Malkovich fue maravilloso, Rory Culkin también está en la película; ha sido muy fuerte. Es algo prematuro de lo que hablar, pero lo que más me atrajo es que es un gran escritor/director joven llamado Paul Solet esté a cargo. Esta película desenfoca varios géneros: tiene un aspecto de novela de suspenso; tiene un elemento dramático; y tiene un grado de acción. Me encanta el hecho de que hay un perro, que es el personaje central, que se llama De Niro. Amo los animales, existe una especie de paralelismo entre los animales maltratados, los animales descuidados, y también las personas en la sociedad. A pesar de que es una película bastante comercial, tiene esta corriente oculta con la que me identifico. Eso es lo que me atrajo de esta película, y por supuesto, trabajar con John, un actor al que siempre he admirado. Pasamos un buen rato… Creo que Rory va a ser realmente especial en la película, y el perro fue maravilloso.
---
Article Archive: July 08, 2012.
---
Since winning his Oscar at 29, Adrien Brody has refused to be typecast. He talks about his unexpectedly diverse career, the debt he owes his parents and how to run away from a gorilla
This is the most intimate interview I've ever done," whispers Adrien Brody, which is exactly the kind of thing you want to hear when you're inches away from an Oscar-winning Hollywood actor who's interrupted his holiday to chat to you. And when the two of you are sitting on a baking-hot day in an upscale beach complex in Monaco that is part Stella Artois advert and part JG Ballard novel, without a PR person in sight to chivvy things along and prevent you from asking impertinent questions. So who are you to quibble if the sotto voce intimacy is down to your subject having lost his voice?
"I have laryngitis – did they tell you?" he'd mouthed when he first bounded down the steps wearing a trilby with a peacock-blue band and a huge smile.
Actually they did, but I assumed that was star-speak for a bit of a croaky voice and instantly wiped it from my mind. As it turns out, Brody really can't talk; not in any significantly audible – and therefore tape recordable – way. I experience a moment of excruciating anxiety followed by certainty that I am now sweating so profusely I will shortly resemble Dirk Bogarde in the closing scene of Death in Venice. Later I realise that it's unlikely that I've concealed this from the highly empathic Brody, who immediately cracks a joke. "It's not me being a strange actor," he promises. "'Adrien would only do the interview in mime'… Me and Daniel Day-Lewis, we do this, you know." I recover sufficiently to tell him that if I subsequently find out this is method-style research for a role as a mute, I will be really angry with him.
Though it's hard to imagine being so. Brody is terribly engaging: by turns solemn and funny, wise-cracking and serious. He is confident and relaxed, but with an air of vulnerability that is exacerbated, although I don't think created, by his slightly lugubrious looks; you feel that he's hiding nothing, but that there's a lot to get to.
Laryngitis or no laryngitis, we'd better crack on. "When I have something really great to say, I'll put a little voice in it," he reassures me. "Until then, I'll just whisper." I nod, and hold the tape recorder very close; at moments during our conversation, I realise I'm whispering, as well, and apologise. "You can whisper, too," he smiles. "It's nice."
We begin by murmuring about Detachment, in which Brody plays Henry Barthes, a substitute teacher who grapples with the shortcomings of the American public-school system by day and tries to turn round the life of a teenage prostitute by night. It is compellingly, harrowingly brilliant, but it is fair to say that it is also short on laughs; for those, one can go to another recently released Brody offering, High School, in which he plays Psycho Ed, a maniacal drug dealer whose weed gets a whole school stoned. It is hard to come up with two films more different; unless, perhaps, you think of The Pianist, for which Brody won the Academy Award for Best Actor in 2002, and 2010's Predators. He is not, as we will see, an actor who intends to be typecast.
In Detachment, Brody plays contained angst to enormous effect: Henry Barthes tames unruly hordes of disaffected kids through a kind of charismatic distance while privately flipping out, sitting weeping on buses as he remembers his dead alcoholic mother or giving in to explosive bouts of fury. It's not that much of a surprise to discover that the film was directed by Tony Kaye, who also brought us American History X. Both films have at their heart men who maintain their stoicism in a sea of distress and dysfunction; they are, in a sense, explorations of tortured masculinity. On its surface, Detachment is a film about the failings of state schooling; but Brody insists that it is also about "aloneness as a human condition; as a greater, graver issue".
"Tony would be the first one to tell you that his objective was not to make a movie critical of the education system, which obviously has flaws, we all know that," says Brody. "But I think the education of us, and our soul, and our being, comes from a much earlier place, you know, and is the responsibility of the parents and the loved ones in our lives. A little bit of attention and kindness can totally change a whole life, and a lack of that can do the same… I think a lot of children are not given the respect they deserve, and it's the one thing to which I can attribute my success as a person, my evolution, from my parents, from that upbringing – no other influence I think had that kind of profound effect on me."
His family life also had a more direct influence on his portrayal of Henry Barthes, which he describes as "an homage to my father and the contribution he's made, which is very generous and underappreciated by society". A teacher throughout his career, Brody's father even shot a scene for the film, in which he played Henry's estranged father. "I swear, he was fucking brilliant; my mum and I were, like, jaws on the floor," Brody grins. His dad didn't make it into the final edit, but Brody hopes the scene might become a DVD extra. In the meantime, however, he's just happy that he's been able to give his father equal billing alongside his photographer mother, whose "tremendous inspiration" he's often credited in the past.
He grew up in Queens, New York: outside was a "relatively harsh environment, neighbourhood-wise"; inside "a home that had love and creativity and respect". His mother used to take him with her on jobs, and was one day sent to photograph an acting school. "It's random. She may not have got that assignment. I may not have gone to an acting school at a young age." In fact he'd started performing even before that, doing magic tricks as a young child, and I ask him whether he thinks being an only child determined his career choice. He talks for a little about how his parents spoke to him as an adult, and how he was encouraged to develop his imagination, and then he says, very seriously: "I think it forced me to be mature, because I had to be accountable when I came home. I couldn't run off and blame it on my brother or sister. I had to be accountable."
Accountability is clearly a big thing for Brody, who rarely speaks of a role without using the word "responsibility". It makes perfect sense, of course, when he's talking about playing Wladyslaw Szpilman, whose fight for survival during the Second World War he depicted in Roman Polanski's The Pianist. Brody became the youngest ever winner of the Oscar for best actor, fending off the claims of Michael Caine, Daniel Day-Lewis, Jack Nicholson and Nicholas Cage; it was a particularly sweet success following the low point of a few years earlier, when what had started out as a substantial part in Terrence Malick's The Thin Red Line was virtually edited out of existence.
The Pianist, he says now, was "all consuming. For a good year after, I was probably seriously depressed". A year? "Easily," he replies. "There were severe transitions that I put myself through physically and emotionally… I shot it when I was 27, and that was my real awakening and entrance into adulthood, that responsibility, and awareness of my own good fortune that I had taken for granted."
The responsibility of playing a Polish Jew during the Holocaust is obvious; and Brody also speaks powerfully about his regret that more roles of that calibre haven't come his (or anyone else's) way during the decade since The Pianist was made. So what attracted him to capering around in blockbusters such as Predators or King Kong? Well, he explains carefully, his dislike of repeating things extends even to individual scenes: "The key is to somehow get yourself to a place where it feels as real as it can feel, and you can't repeat that… But it's so precarious, that place, it's so hard to find, and it takes all that work to get to it, and then it's not something you just turn on and repeat, and so, yes, I like things that are very different for me and cause me to have to stretch."
Hmm. Wasn't King Kong also just… fun? He laughs: "It was pretty fun! It was harder than I anticipated. I wanted to do it because I thought it would be fun, and kind of a departure from all the weighty things that I'm attracted to, but in order to portray fear, for instance, which you have to experience in a jungle running from a 25ft gorilla, you have to find things that frighten you, and it's much more challenging when there's no gorilla there and there's a tennis ball on a stick. You still have the same responsibility to feel. If I don't feel it, why should I expect you to feel it? I can't fake it."
Brody's immersion in roles is well-known – he lost vast amounts of weight for The Pianist (he was hardly chubby to start with), not to mention relinquishing his home and his relationship, he bulked up for Predators and took a part with virtually no words in M Night Shyamalan's The Village. It is said that when he was filming The Jacket, in which he played a Gulf War veteran sent to an institution and subjected to radical therapy, he asked to be left in a straitjacket in a morgue drawer even when the cameras weren't rolling. There is devotion to one's art, and then there is obsession.
Which is why I'm somewhat taken aback to find that his holiday is an open-ended one, with no concrete plans to return to work. "You're finding me at a very blessed time in my life," he says. "I'm embracing hanging out." His day job, he points out, requires material, and while he waits for something suitable to come along, he has a licence to relax; in his personal life, he says, he's "a free man". "I have a lot of discipline and I have a lot of self- control, and I think it's important to relinquish some of that at times, to surrender to whatever will be." Insofar as he has any plans, he thinks he might spend the summer in Europe, "then I'll buckle down". In any case, he laughs, "My level of irresponsibility is… not so bad."
It certainly isn't. I'm not sure very many other actors would have torn themselves away from the beach and lugged themselves, voiceless, to an interview to promote a small, relentlessly serious film. Of course there are some perks associated with being a film star – the bar where we've been sitting opened especially for us, and we've had the whole place to ourselves. "This has never happened to me before!" whispers Brody as we make our way out. "It's like being Tom Cruise or something!"
---
Added from: theguardian
Article Archive: January 02, 2003.
The Freedom to Wait
Adrien Brody wears silvery sneakers with his black suit. He looks slightly weary, and awaits his pancakes. Aside from time out for making a music video with Tori Amos, for "A Sorta Fairytale" (in which he spends most of his onscreen time as his head attached to a hand, only), Brody has been traveling during the past year, promoting The Pianist.
Based on the 1946 memoirs of Wladyslaw Szpilman, a Polish Jew and composer-pianist who hid in Nazi-occupied Warsaw, in and around the Jewish ghetto, Roman Polanski's Palm d'Or-winning film also incorporates some of his own memories of the ghetto, from which he escaped at age 7.
While the 29-year-old New York native has worked on any number of rewarding and difficult films in the recent past—including Spike Lee's Summer of Sam and Barry Levinson's Liberty Heights (both 1999), Ken Loach's Bread and Roses and Elie Chouraqui's Harrison's Flowers (both 2000)—few had the effect on him of Terrence Malick's The Thin Red Line (1998), from which most of his part was, now famously, cut. This after spending months shooting in Australia.
For The Pianist, Brody committed himself wholly, learning to play Chopin and speak Polish, losing thirty pounds to shoot the final ghetto scenes, when Szpilman was starving nearly to death, working for months in an abandoned Soviet Army barracks in Jüterbog, a former East German town outside Berlin. Remembering these months, he looks pensive, a little sad. Unlike most filmmaking experiences, this one was grueling, wondrous, and life-changing.
We spoke first about his opportunities.
PopMatters:
You've had the chance to work with incredibly respected directors—Steven Soderbergh [on King of the Hill], Terrence Malick, Spike Lee, Ken Loach, Barry Levinson, and now, Roman Polanski.
Adrien Brody:
It is unusual, I think, and I feel very fortunate to have had the opportunity to experience all of these interesting, creative people's styles. Not only in a career sense has it been good for me, but I've been personally influenced by it. People are "good" for a reason, and they all have wonderful qualities that I've learned from. I also come in contact with these projects because I'm looking for material that's somewhat inspirational. And I'm fortunate that I'm able to hold off and not necessarily do things just for the sake of working. Unfortunately, most actors don't have that luxury. Somehow, I've managed to do that.
PM:
How have you managed?
AB:
My parents have raised me with a sense of what's really important and have given me decent values, and I'm comfortable, but I haven't lived an excessive lifestyle in the least. And I've kept my expenses to a minimum so that I have the freedom to wait.
PM:
I grew up in a house with an illustrator and photographer, and I'm wondering what it was like to grow up in a house with your mother [photojournalist Sylvia Plachy]?
AB:
I was surrounded with her pictures everywhere, negatives hanging in the bathroom, prints drying on record racks in the hallway, film canisters being rinsed out in the tub. And I went with her on assignments, or down to the Village Voice offices. And my father [Elliot Brody] was a public school teacher in New York. He's been a great father to me, really encouraging and patient. So all of those things have shaped me, as well as the environment on the streets, which was entirely different. It was difficult, and that too has shaped me. So, I had this nurturing home life, but I know what's out there too, on a very real level.
And unfortunately, my friends who didn't have that home life, it's been more difficult for them. I have friends who went to art school with me, whom I knew from Queens. We'd take the train in together to go to [High School for the] Performing Arts, and they had to let a lot of it go. First of al, they weren't encouraged, it's very competitive, and they had no money. We didn't have much, but they had none, and so they had to step out into the world and just start supporting themselves. And you lose track. Fortunately, I began acting before supporting myself became an issue. You don't make much money from independent films and theater that's off-off-off Broadway, and workshops at BAM (Brooklyn Academy of Music], which I was doing when I was young. But I did manage to get an occasional commercial that would supplement my income for a while. I didn't have the pressure of being out on my own, studying for years and then arriving in L.A. I was able to work toward something for a long time.
And I'm still working towards it. None of those films with those great directors was presented to me. It was all a struggle to get them. Looking back on it, it's interesting that I was able to get so many roles like that and be right for them. That's another thing. There are the obstacles of your position as an actor, not being a commodity enough to be hired by the big directors for projects that have some kind of integrity, because the successful actors who've been in the game for a while want those roles. So there's more competition, so you have to work harder and be right for it.
PM:
You're almost uncannily right for Wladyslaw Szpilman. On its face, it seems so daunting, not just because it's so large, but also because it's about receding over time, almost caving into yourself.
AB:
It's hard to describe it. For one thing, I had to shoot it in reverse chronology, and it was hard to be completely involved with that end state of being that this man ended up in, and not taking that journey, even as a character. And then I had to eliminate all of those feelings that I had cultivated over time, to connect with him, and then make it seem as though, not only had I never experienced them, but they were infeasible for him and everyone around him.
What's remarkable is that the character is somewhat detached from everything, and isn't typically heroic. There were extended periods of silence, where I was just called to react. I'd never had that opportunity in a film, and that's a whole different process. There's not another actor there who's either inspirational or who picks up some of the slack. You have to stay on, and there's no moment to escape being immersed in that state of mind. No moment whatsoever, on set and off. Roman doesn't even like using a stand-in. I've never worked this hard in my life. And it makes everything else that comes my way so much easier. Even painful things in my own life, I'm like, "Ahh!"
We had a premiere in L.A., and I'd done this movie like a year and a half ago, I'd been all over the world, doing press for the film and it's been meaning so much to me. Finally, there was an opportunity for an American audience to see the film, and it was in Hollywood. I couldn't wait for people to see my work in something extremely dramatic. And then, the sound broke! They cut the film and couldn't fix it. And it was a benefit. And it was done. No L.A. premiere.
And I swear to you, it occurred to me, you know what, considering what this man endured, and really what this film stands for, this is so insignificant. And that enabled me to see things in a way that I don't think I would have been able to, had I not experienced this on a somewhat profound level. I appreciated it so much in that moment. And I thought about it a lot. And I thought, I was disappointed, even more for the people who were there and paid for this benefit. And Jack Nicholson was there; I was dying for him to see my movie. But it didn't mean that much. And that's a real gift to be able to see things in that way. I don't know if I'll always be able to do that, but that's a perfect example of how it changed me, in a way that I've noticed. It's changed me in other ways. I feel bad, sort of, asking if I can get some syrup for my pancakes! [laughs] I should just eat them and not complain.
PM:
This is rare, for a movie to have that kind of effect.
AB:
Oh yes. I strive to find material that I will grow from, that will inspire me or educate me about some social issue that I don't know enough about, or that I do know about, but I want to learn more, about struggles that I haven't had to endure. And that gives you a greater understanding of the suffering that exists in the world, and also the joy that exists in the world. How good we have it here, also became very clear to me. On Ken Loach's film [Bread and Roses], I learned a great deal, as well.
PM:
So you do a lot of research for such roles?
AB:
I do, often. Especially if it's encouraged by the director, when there's a place for it. I'm not someone who needs to do it for the sake of doing it, to say that I did it… later. It's a great story that I lost all this weight for this role [30 pounds] and learned to play Chopin and all that stuff. I didn't know it was a story when I was doing it. I was just thinking, "Oh shit, I've got to lose all this weight in 6 weeks." And I didn't eat much. And I made it through. It's kind of wonderful to see that physical transformation, but it made me connect, too. Initially I did it for a technical reason. I did want to understand the loss, this emptiness that real hunger does encourage. It creates this whole thought process that kind of harps on emptiness. And it's something that I didn't know, really, not to that extent. At the time, though, I did it because it was a necessity.
In Summer of Sam, I had to embrace punk rock music. I didn't really grow up with punk, I didn't appreciate it really, but I learned it, as I learned to learn the fingering on the guitar. It freed me, really, because the character was so uninhibited. That was necessary then, because I had felt very inhibited from Thin Red Line, for the role, cultivating all this fear. Fear is an emotion that's terrible to live with; it's something that we try to work away from since childhood. And for that film, I was forced to embrace it. And… I had something to be afraid of… but it wasn't in the script! [laughs] You should be very afraid!
PM:
You don't feel fear regularly, as an actor?
AB:
Sure you do. But that's exciting. As an actor, I'm not afraid of putting myself out there. As a human being, you feel these things in any endeavor. I remember years ago, I did a film called Ten Benny, originally called Nothing to Lose. And I went to Sundance with it, the first time I went, nine years ago. It was a lead role, I was a young man, or I felt like a man, but I wasn't, I was 20. And I remember Parker Posey was there, and she was doing all these interviews, and I was thinking, "Wow, that must be so difficult, putting herself out there." I was so nervous about the prospect of doing serious interviews. And here I am, for the past few months, I've been traveling the world discussing a very serious subject matter, and having to represent the film, in a way, because Roman is not discussing it. And I'm sharing personal things about myself, and being able to convey these things without being inhibited, in a sense. If I had let that fear inhibit me, and say, "No, I'm not going to do any interviews," it would hold me back. Not only from helping the film and increasing awareness of the film, which is part of the objective. But it's more interesting to discuss things that have had a profound effect on you, even if you have to repeat certain things, some hundreds of times. There are questions that stimulate a thought process about serious things, and these discussions can be incredible. I've had to formulate serious opinions about some things. And that's very helpful, I think, for a young man. There is value and purpose in this process, even though at times it's difficult. And that's what's wonderful about it.
PM:
What has the process revealed to you, as you see how people respond to the film?
AB:
Everybody has an opinion. Basically, you hear all these different perspectives, and they mention things you may not have considered, or you mention things they may not have considered. Doing interviews is very different from working as an actor, because it's up to the journalist not only to understand what I'm trying to convey, but to convey that understanding through their process. And often times it gets manipulated, sometimes intentionally, by pulling things out of context. And that's frustrating. Some people may not appreciate your work and some may be incredibly moved by it. So that isn't the concern. You have to do what you can do, and share what you feel is appropriate to share in the moment. And then, it's out of your control. Hopefully, most of the time, it comes back in the right way.
PM:
How does it feel to have this preserved record of your work and thinking, sort of "snapshots" of yourself, follow you around?
AB:
It's wonderful. That's something that I really value. So I can show my kids, someday, that I was cool. Somebody asked me the other night on the street in Boston, "Do you know anybody who is looking for "rolls." And I'm sure he was trying to sell me some drugs, but I could only think, "Am I that old that I don't know the lingo?" What rolls? What is that? I really gave it some thought. You don't want to be out of touch when you're a young actor. And I get called on to play a junkie, that's the first thing I'll learn.
PM:
Is it difficult to maintain contact with ordinary life, especially when you're working on these lengthy projects, like the Malick or this one.
AB:
In that moment of making the film, it's fine. The problem is when you become so well known that everyone is watching you and you don't have an opportunity to observe. That's something that I'm concerned about, because it's getting there. It's something that I don't want to lose. I like taking the train. I like being unnoticed when I don't feel like being noticed. It's not like I crave attention all the time. Something that I've always loved and appreciated is the chance to see something about someone's character, observe and kind of retain it, and study it without feeling like I'm studying it. I have an intense curiosity. And it would be a shame if I lose the ability to do that.
PM:
And I imagine that as the fame thing increases, people you don't know well begin to perform for you.
AB:
That's the other thing, is that people have preconceived notions of who you are and are unable to be just themselves, some shift. Being just yourself means you're unselfconscious in that moment. Or maybe we're all self-conscious to an extent. You meet a pretty girl, you're different from when you meet a tough kid on the street. So perhaps we always are acting, in a sense. But you meet someone you feel you admire or you "know," and it'll be different for that reason. So far, it's an interesting ride, and I'm curious to see what I can find next.
---
Added from: popmaster