new movie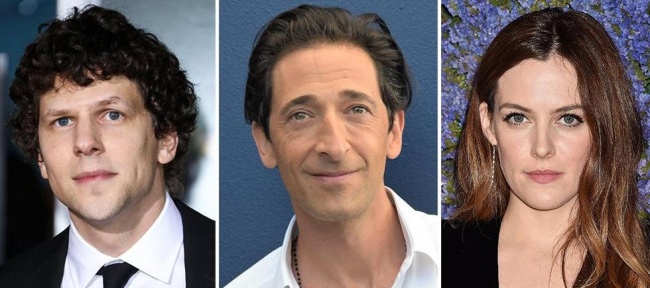 Tal y como informa The Hollywood Reporter, el ganador del Oscar Adrien Brody, el nominado al Oscar Jesse Eisenberg y la nominada al Globo de Oro Riley Keough han firmado para protagonizar un futuro thriller titulado 'Manodrome'. Eisenberg interpretará el papel de un conductor de Uber y aspirante a culturista llamado Ralphie, mientras que los detalles sobre los personajes de Brody y Keough no han trascendido.
La historia se centra en un tipo llamado Ralphie, quien es introducido en un culto a la masculinidad libertaria y pierde el control de la realidad cuando despierta sus deseos reprimidos. El proyecto está programado para ser presentado en próximo mercado virtual de Cannes.
El director sudafricano John Trengrove ('The Wound') dirigirá su primer largometraje en inglés con este proyecto producido por Keough, Gina Gammell y Ryan Zacarias a través de su sello Felix Culpa, junto con Ben Gilad para Rainmaker Entertainmenti.
A Eisenberg le veremos próximamente en el thriller satírico de ciencia-ficción 'Dual', así como en la comedia dramática 'When You Finish Saving the Word', con la que el actor debutará como director. Brody por su parte estará en la película de Wes Anderson, 'The French Dispatch', mientras que Keough estará en el drama biográfico de A24, 'Zola' y en el thriller policial de Antoine Fuqua, 'The Guilty'.
Vía: https://www.elseptimoarte.net/noticias/actualidad/jesse-eisenberg-adrien-brody-y-riley-keough-protagonistas-del-thriller-manodrome-40653.html
The French Dispatch official trailer is out!!!
Wes Anderson's new film 'The French Dispatch': release date, poster, plot details, trailer, cast and everything we know so far. CLICK HERE
Screenshots:
---
Credit: Searchlight Pictures