thriller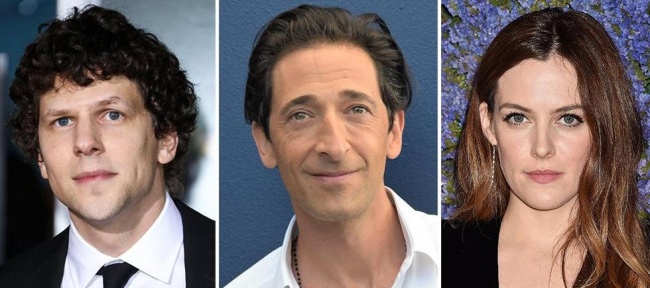 Tal y como informa The Hollywood Reporter, el ganador del Oscar Adrien Brody, el nominado al Oscar Jesse Eisenberg y la nominada al Globo de Oro Riley Keough han firmado para protagonizar un futuro thriller titulado 'Manodrome'. Eisenberg interpretará el papel de un conductor de Uber y aspirante a culturista llamado Ralphie, mientras que los detalles sobre los personajes de Brody y Keough no han trascendido.
La historia se centra en un tipo llamado Ralphie, quien es introducido en un culto a la masculinidad libertaria y pierde el control de la realidad cuando despierta sus deseos reprimidos. El proyecto está programado para ser presentado en próximo mercado virtual de Cannes.
El director sudafricano John Trengrove ('The Wound') dirigirá su primer largometraje en inglés con este proyecto producido por Keough, Gina Gammell y Ryan Zacarias a través de su sello Felix Culpa, junto con Ben Gilad para Rainmaker Entertainmenti.
A Eisenberg le veremos próximamente en el thriller satírico de ciencia-ficción 'Dual', así como en la comedia dramática 'When You Finish Saving the Word', con la que el actor debutará como director. Brody por su parte estará en la película de Wes Anderson, 'The French Dispatch', mientras que Keough estará en el drama biográfico de A24, 'Zola' y en el thriller policial de Antoine Fuqua, 'The Guilty'.
Vía: https://www.elseptimoarte.net/noticias/actualidad/jesse-eisenberg-adrien-brody-y-riley-keough-protagonistas-del-thriller-manodrome-40653.html
South African director John Trengove is making his English-language debut, financed by CAA and to be unveiled at the Cannes virtual market.
Jesse Eisenberg, Adrien Brody and Riley Keough are set to star in John Trengove's Manodrome, to be unveiled at the Cannes virtual market.
The nihilistic thriller tells the story of Ralphie, played by Eisenberg, an Uber driver and aspiring bodybuilder who is inducted into a libertarian masculinity cult and loses his grip on reality when his repressed desires are awakened. Felix Culpa's Keough, Gina Gammell and Ryan Zacarias are producing with Ben Giladi's Rainmaker Entertainment.
CAA Media Finance arranged financing and will handle the sale of the domestic rights. An international rights deal is understood to be in the works ahead of Cannes.
Trengove is making his English-language debut after his Xhosa-language debut feature, The Wound, screened at Sundance and Berlin. Eisenberg is best known for his star turns in The Social Network and the Now You See Me film franchise.
Brody won an Oscar for his role in The Pianist. Keough will next be seen in A24's Zola and Amazon's Daisy Jones & The Six series.
Keough is represented by CAA, Thirty Three Management and The Lede Company. Brody is represented by CAA. Trengrove is represented by CAA and Independent Talent Group. Eisenberg is represented by CAA.
---
Source: https://www.hollywoodreporter.com/movies/movie-news/jesse-eisenberg-adrien-brody-riley-keough-star-manodrome-thriller-1234972166/
Adrien Brody and Vera Farmiga will headline director Ant Timpson's mystery thriller The Salamander Lives Twice.
Written by Toby Harvard, with a story by Timpson and Harvard, the pic follows an injured man (Brody) with an impenetrable briefcase and no memory who is found on the shoreline of a remote island by Iris and her daughter Goggy (Farmiga), the last remaining members of a once prosperous family dynasty.
Producers are Emma Slade for Firefly Films, Katie Holly for Blinder Films and with executive producers Timpson and XYZ Films.
XYZ Films is handling world sales and co-repping domestic with CAA Media Finance at AFM.
Brody is repped by CAA; Farmiga is repped by CAA and Authentic Talent and Literary Management. Timpson is repped by CAA.
Source: deadline